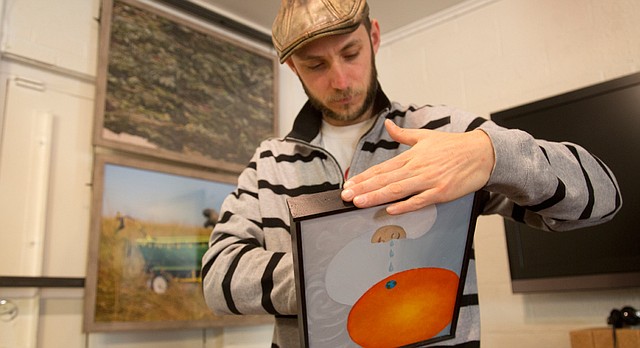 Nearly a year ago, the city of Lawrence was abuzz — pun intended — with talk of cicadas. Entomology enthusiasts had waited 17 years for the precious few weeks in late spring 2015 when tens of millions of periodical cicadas would crawl out from underground to mate, make a lot of noise in the process, and die.
But not before laying eggs inside the grooves of young twigs, which in less than a dozen weeks would hatch, delivering us a new generation of cicadas to burrow and re-emerge in another 17 years.

"I had a conversation with an older friend of mine who's in his 80s," Sara Taliaferro remembers. "He and I both realized he might not be there to witness the next one."
"I thought, what will the cicadas experience when they emerge in 17 years? Or if the emergence occurs just fine, what will happen 17 years after that?" asks Taliaferro. "I imagine them emerging into a very droughty situation or not emerging at all."
What the next generation of periodical cicadas might find above the surface in 2032 — and beyond — is the subject of Taliaferro's watercolor "Extinction Emergence." A scientific illustrator by trade, Taliaferro is one of nearly two dozen local and regional artists participating in the Lawrence Percolator's "Heating Up: Artists Respond to Climate Change."
The exhibition, which opened Friday, is part of a monthlong series of cultural and educational events scheduled throughout March and April. Sponsored by the Lawrence Ecology Teams United in Sustainability (LETUS) and Lawrence field office of the U.S. Department of Arts and Culture, "Heating Up" has been more than a year in the making, says Taliaferro, who co-chaired the planning committee with fellow Lawrence artist Lora Jost.
The pair wanted to foster a sense of inclusion with the programming, inviting everyone — even those who might not feel knowledgeable on the subject, or who may have been intimated by "intellectualized" lectures or talks in the past — to join in.
"I think there's a nuance to this conversation that isn't in the broader conversation happening right now. It's not black or white. Our hearts are in it too," says Taliaferro. "Bringing it into your heart or your intuition or your guts or maybe making it sexy — that's a conversation that has the potential to include everyone."
Because art isn't data-driven or objective by nature, an exhibition like "Heating Up" offers room for different voices and different ways to engage the viewer in an often-politicized issue, program organizers say.

Or, as Jost puts it, "You don't have to be a scientist to speak out about climate change."
Artists of varying experience and training, among them professors and students, have contributed works varying from paintings, prints and drawings to sculptures, handmade books and installations.
When asked to describe his "Heating Up" piece, Washburn University professor of art Marin Abell references a quote by Ralph Waldo Emerson:
"What is a weed? A plant whose virtues have yet to be discovered."
His 9-foot flat-bottomed trolling motorboat is partially made with Eurasian Watermilfoil, an invasive species that he started researching during a residency at upstate New York's Stone Quarry Hill Art Park in the summer of 2014.
In the Finger Lakes area, communities were spending millions of dollars in efforts to eradicate the species, Abell learned, at times dousing water bodies with herbicide, sending in scuba divers to remove the plant by hand or mowing with WeedWacker-boat hybrids that would bail the weed on deck and transport it by ton to the city dump, where it would decompose for a year to be used as soil fertilizer.
When Abell moved to Topeka not long after, he discovered Eurasian Watermilfoil had also become a problem at nearby Lake Shawnee, and that herbicides were being used to beat back the thick stem entanglements and vast mats of vegetation that covered the water's surface.
So, he decided to offer an alternative solution.
"I'm using a material that's considered a menace and treating it as something productive," Abell says of his creation. "In my own life, I think of certain things as wasteful, and I think as a culture we do that too, which to me seems a very narrow-minded way to classify the world. Weeds are different — they disregard our agenda."
The "H.M.S. Hydra," as he's calling it, is crafted from a resin-sealed fiber made out of Eurasian Watermilfoil. Produced in consultation with Topeka's All Grain Brewing Specialists, the boat runs on distilled Eurasian Watermilfoil ethanol.
The name of the boat, of course, comes from the Greek myth of the Hydra water monster, whose many heads would only regenerate if any hero dared to chop them off. When sliced by boat propellers, the fragments of Watermilfoil stems will disseminate and grow into new plants even faster.
"In this Greek mythology, the Hydra is a feminine figure that's slain by a male figure," Abell says. "Instead of trying to slay it, I'm trying to embrace the perspective of the other."
While weeds like the Eurasian Watermilfoil continue to "disregard our agenda," Kansas City artist David Titterington explores a similarly lopsided relationship between humans and the environment in his "Pearl Gate" painting.
"My philosophical discussion is how we are not part of the landscape — the landscape is part of us," says Titterington, who teaches painting and drawing at Kansas University and Haskell Indian Nations University. "Because we depend on the landscape like we depend on part of our own body, but the landscape doesn't really depend on us."
"If humans don't survive this catastrophe," he adds, referring to climate change, "the world will go on without us."
In "Pearl Gate," Titterington has created ambiguous imagery of either a polluted gut complete with swollen intestines or a polluted bit of nature surrounded by craggy bluffs and tree stumps — or some blend of the two.
What appears to be sewage flows from a pipe into a brown pool of liquid. It's all pretty bleak, but just off the shore of the sewage pond glows a clean white pearl. "Pearl Gate" refers, initially, to pearly gates of heaven as described in the New Testament's Book of Revelation. So, there's some hope in this yet, Titterington says.
"And that out of that maybe will come wisdom," he adds, "Like the pearl coming out of the clam."
Upcoming related events
For more information on these happenings, visit the "Heating Up: Artists Respond to Climate Change" Facebook page.
Hang12 "Effecting Climate Change" Coordinated by the Hang12, the Lawrence Arts Center's youth curatorial board, this current exhibit at the Watkins Museum of History includes art made by teens from repurposed materials. "Effecting Climate Change" will remain on display at Watkins, 1047 Massachusetts St., through April 22.
"How Can We Work Together on Climate Change?" This panel discussion, slated for 3 p.m. to 5 p.m. April 10 in Room 110 of Haskell Indian Nations University, 155 E. Indian Ave., features five local panelists: Saralyn Reece Hardy, director of the Spencer Museum of Art; Thad Holcombe, retired Ecumenical Christian Ministries campus minister at KU and LETUS moderator; Eileen Horn, sustainability coordinator for Douglas County and the city of Lawrence; Jay T. Johnson, associate professor and associate chair of geography and atmospheric science at KU and director of KU's Center for Indigenous Research, Science and Technology; Dan Wildcat, Haskell professor and director of Haskell's Environmental Research Studies Center. The event is free and open to the public.
"Mrs. Noah in Poetry and Dance" The Lawrence Percolator, 913 Rhode Island St., will host this collaborative performance by poet and KU professor emerita of English Elizabeth Schultz and retired KU dance instructor Joan Stone with performances at 7 p.m. and 9 p.m. April 15.
Eco Ambassadors "Haskell Wetlands Restoration Day" The public is invited to join in from 10 a.m. to 2 p.m. April 16 during this workday of seeding and planting led by Haskell students of the Haskell Wetlands. Guests are encouraged to bring gloves and gardening/landscaping tools.