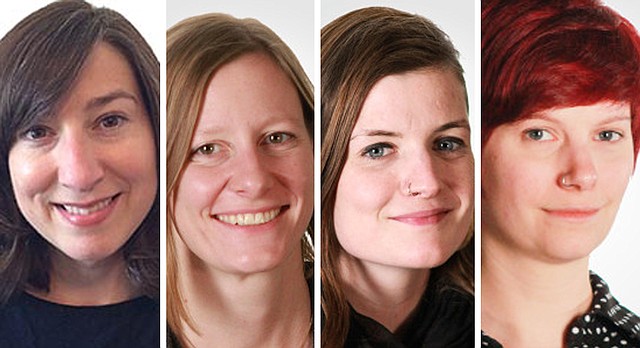 The Lawrence Arts Center announced Monday that four of its staff members have recently garnered prestigious residencies, internships and teaching opportunities, among them a Fulbright grant awarded to the Arts Center's 2015-2016 ceramics artist-in-residence.
As part of her Fulbright grant, Christy Wittmer will travel to Jingdezhen, China, where she will spend 10 months investigating creative culture within China's "Porcelain Capital," documenting innovations in traditional and contemporary ceramic sculpture and creating a new body of work that "utilizes the ceramic resources located within the sculpture factory of Jingdezhen," according to an Arts Center news release.
Ceramic artist Kyla Strid, the Arts Center's director of adult education and artist residencies, has received a two-week open studio residency at Haystack Mountain of Crafts in Deer Isle, Maine. During her residency, Strid will develop new work "based on the Minoan ceramic forms and surfaces she studies while consulting on an archeological dig on Crete."
Cate Richards, the Arts Center's exhibitions administrator and front office manager, has been selected as the Society of North American Goldsmiths conference planning intern for the 2016 SNAGnext Conference, which will take place in Asheville, N.C., from May 18 to May 21. A jeweler and metalsmith, Richards also recently received a full fellowship to attend an intensive workshop at Anderson Ranch Arts Center in Snowmass, Colo.
Printmaker Tonja Torgerson, who serves as the Arts Center's print studio fellow, has been invited to act as a studio assistant for printmaker Sage Perrot at the Penland School of Crafts for a two-week screenprinting workshop in August. Located in North Carolina's Blue Ridge Mountains, Penland is a national center for craft education.