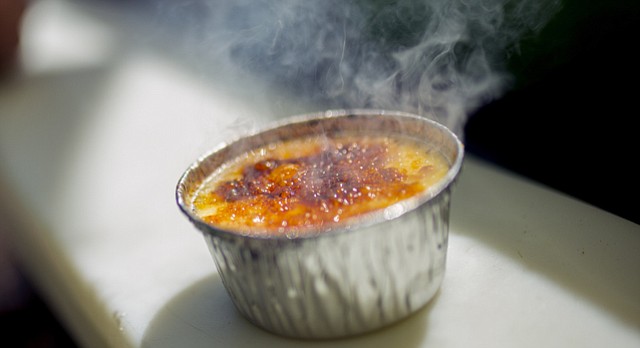 A new culinary festival is being planned in Lawrence this fall as a bookend to food truck season.
Julia Ireland, owner of Torched Goodness — one of Lawrence's seven food trucks — is behind the effort. She dubbed the new event "Savor Lawrence," with the idea that it would feature foods exclusively from Lawrence food trucks and downtown restaurants.
"Our thing is really trying to keep it local Lawrence, showcasing great foods and different cuisines here in town," Ireland said.
Savor Lawrence will be held the afternoon of Oct. 23. Part of the 700 block of Vermont Street near the Lawrence Public Library will be closed to house food trucks and other vendors. Vendors will also be stationed on the plaza next to the library.
Besides food, Ireland envisions live music and activities for kids. A local brewery — not yet announced — will provide beer.
Ireland participated earlier this month in the Kansas Food Truck Festival in East Lawrence, what she called the "kickoff" to food truck season. That event, in its third year, saw 3,800 attendees and 26 trucks.
"Lawrence really comes out for these truck festivals … I mean, by the thousands," Ireland said. "There's definitely room for another one."
All Lawrence-based food trucks are on board for the Savor Lawrence event, Ireland said, and she wants to allow any downtown restaurant the opportunity to set up a booth.
Like the Kansas Food Truck Festival, attendees will be charged an entrance fee (Ireland says it will be around $5 to $7), and part of the proceeds will go to a local charity. The organization to receive the funds hasn't yet been decided on, Ireland said.
The Kansas Food Truck Festival raised $41,000 for Douglas County food bank Just Food.
"We have a few new trucks and some coming out this season," Ireland said. "It will be nice for locals to get out and have them all in one place."