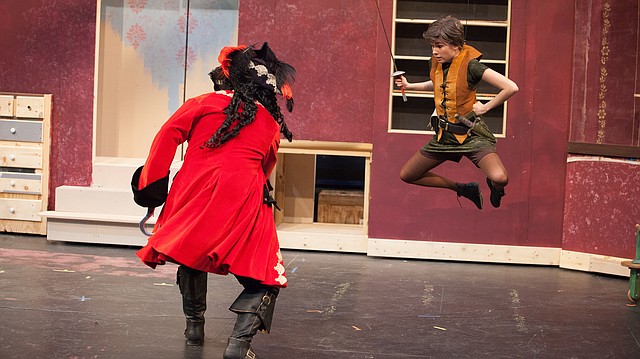 Sunday, November 27, 2016
For Amy Nystrom, the set of Theatre Lawrence's production of Peter Pan — from the wallpapered nursery to the multilevel pirate ship — is its own kind of Neverland.
Nystrom, who is playing Peter Pan, will turn 18 during the run of the show. The irony of "becoming an adult" while she plays the role of the ever-young Peter Pan isn't lost on Nystrom, who has taken part in the theater's holiday performance for several years.
"This is really where I've grown up," Nystrom said."…It's kind of interesting and fun doing such an ode to childhood as a role when this is kind of the capstone of my childhood at this theater. To me, it's sort of a bittersweet parallel."
The performance is a musical based on J. M. Barrie's classic story of Peter Pan, and includes songs throughout.
"On my 18th birthday, when I become an adult, I will have to sing 'I won't grow up' twice," Nystrom said. "It's going to be fun."
Perhaps that parallel is part of the spunk of Nystrom's rendition of the character — twirling in the air above stage, spryly sword fighting with Captain Hook. Her role as Peter Pan, dagger at the hip of her green outfit, certainly has the buoyant enthusiasm that many are familiar with.
But whether familiar with the story of Peter Pan or not, the performance is one Director Mary Doveton hopes multiple generations will appreciate.
"I think it's just such a great show for families to come to because it can be enjoyed on so many different levels by so many different age groups," Doveton said, and noted even if the song titles aren't familiar, the melodies will likely be.
Songs included in the performance are "I'm Flying," "I Gotta Crow," and "Never Never Land." Doveton also said that as a young woman, Nystrom can hit the high notes required of the part of Peter Pan, which is traditionally played by a female actor.
Playing a young boy, however, didn't come automatically to Nystrom, she said. She said she usually plays a "sweet woman sort of role" and at first she spent a lot of time observing the interactions of the actual boys who play the Lost Boys. Gradually, she found herself getting deeper into the role.
"I mean, I find myself on a daily basis with my hands on my hips, walking a bit like Peter Pan, sitting like Peter Pan," she said. "Because it just kind of seeps into your daily life when you always think about it during the show."
Nystrom is just one of a cast of 32 characters, including Wendy and her younger brothers, Nana the dog, the Lost Boys, the ticking crocodile, as well as Captain Hook and a host of other pirates. Doveston said she thinks the pirates, as well as their wooden pirate ship, are a highlight of the show.
"We have great pirates swaggering around and terrorizing people, and they have a good comic element to them," Doveton said.
Of course, there is also the flying. Doveton said five characters fly during the performance — gliding above the stage and the audience on a special rigging system — and up to four characters will take to the air at one time. That's a record for Theatre Lawrence, Doveton said.
"Any time you add special effects of any kind, you're entering a whole new realm, so this is exciting for us," Doveton said. "The kids who are flying are just having a fabulous time."
Even with the flying, Nystrom wasn't immediately sure what her favorite element of the show was.
"I love all of it," she said at first. "But all the people, that's the best, is just being with all these people and singing. And the flying."
Peter Pan opens at 7:30 p.m. on Friday, Dec. 2 at Theatre Lawrence, 4660 Bauer Farm Drive, and runs until Dec. 18. Tickets can be purchased at the Theatre Lawrence website, box office or by calling 843-7469.