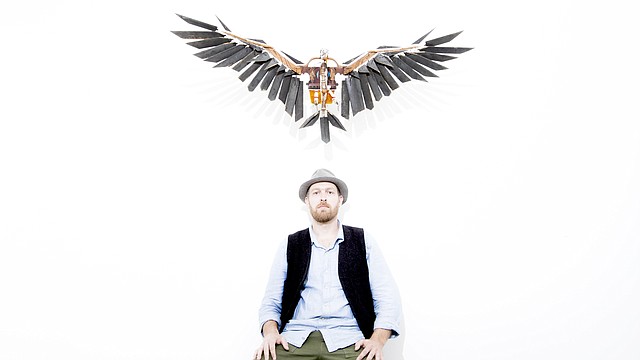 If going downtown to unwind and unplug yourself from the presidential election, the talking heads and hot-button political issues is on your agenda for the upcoming Final Fridays, let this serve as a warning to steer clear of several works of art. Do not let your eyeballs gaze inside the Bourgeois Pig at Jeremy Rockwell's show, and certainly resist the temptation to be challenged, persuaded, dissuaded, confused or possibly even provoked by the Platform exhibition at the Lawrence Arts Center.
"Certainly there is a long history of artists that are socially or politically engaged," says Ben Ahlvers, curator of Platform at the Lawrence Arts Center, which is currently on display and billed as being timed to sync with the 2016 presidential election. "There is more work being made as a reaction to or in relation to (the election) and what's going on right now. I guess we're sort of at the pinnacle of nuttiness."
Although the current political climate may be overbearingly stressful for some, for Lawrence artist Jeremy Rockwell, co-founder of SeedCo Studios, it offers a path toward creating, as evidenced by his sculpture, Eagle 1. The piece features the iconic symbol of American patriotism appearing in full attack mode with a menacing glare, wings spread and talons protruding. The bone structure of the wings and blade-like feathers are slats removed and repurposed from chair backs and window shutters. In addition, wire curves around the bird to form its skeletal structure while little hints of Americana are placed within the torso.
"I was thinking more 'Mericana," Rockwell says with a laugh while talking about the piece relative to his show, which he describes as being "loosely themed" around the presidential race.
"Whether it's the election or something completely different, I think artists are always trying to respond and be somewhat of a reflection of what is happening in the world," he says.
Another piece, which is a collaboration between Rockwell and fellow Lawrence artist Wayne Propst, reimagines an old wooden ironing board as a "Missile Tombstone." On its surface, political buzzwords are fashioned with extruding wires and dissected in a poem aimed at the nuclear age.
Around the corner and a half a block away at the Arts Center, 940 New Hampshire St., Ahlvers defines Platform as being "overtly political." The show, which casts work from 10 artists, has the highly charged presidential race as its focus.
"Basically, I wanted to get a mix or a composite of artists with different perspectives who are talking about a variety of issues that are all currently being discussed by the various political parties," Ahlvers says of the show's intent.
Among the many works is an amended American flag by Archie Scott Gobber, which carries the confused expression "HUH," configured from the stripes of the flag.
Although politically charged art may not be pressed upon us with the same tenacity as the rhetoric coming from the campaigns, we are not helpless observers when it comes to the experiences that occur when we view such pieces of work, Ahlvers says.
"When you are the viewer, you are bringing your experience and your own ideas to that experience," he explains. "The artist has their intent. The viewer has their set of criteria or influences that will determine how they are going to engage with it … Then there's this totally unique experience that comes out of that for that particular person, but it has to happen with them observing the work."
If a poll were taken today, the chances that Rockwell's show and Platform will be the only two that proceed down a political path are unlikely.
"It's in the atmosphere," Ahlvers says. "Whether it's at your dining room table, a coffee shop or a bar, it's almost unavoidable."
More like this story on Lawrence.com