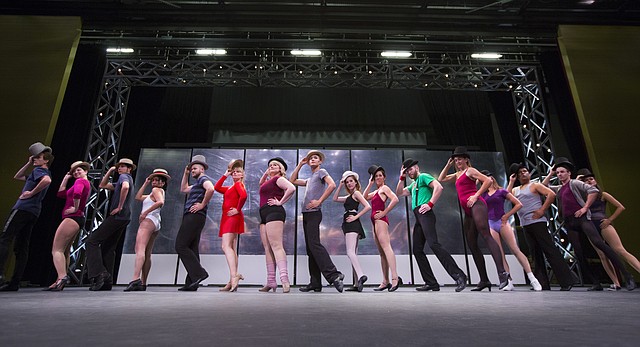 Sunday, September 11, 2016
Judy Locy Wright is more than familiar with "A Chorus Line," the Pulitzer- and Tony-winning musical slated to open Theatre Lawrence's 40th season Friday evening.
A longtime veteran of the theatre world, Wright knows personally the struggles of the young dancers striving for a spot on the titular Broadway chorus line. Though she spent the bulk of her career at the University of Kansas, most recently as assistant vice president of the KU Endowment Association, the now-retired Wright started out onstage, earning a bachelor's and a master's degree in theatre from Baylor University.
But she also has a special fondness for "A Chorus Line" that stretches back to 1975, when Wright caught an early production — it was the first month of the musical's 15-year Broadway run — at New York City's Shubert Theatre.
"I laughed and I cried. I remember standing there with my friend, tears running down my face and clapping and looking around the audience," Wright recalled of the experience.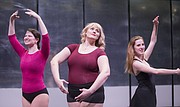 She immediately fell in love with the play, buying herself a copy of the soundtrack and sharing the songs (Wright says she knows them all by heart) with her daughter at their Dallas home. And then, she says, "I didn't think about it for a while."
Juggling the demands of her job at KU, which she loved, with the call of the theatre proved too much for Wright, whose last directing gig was nearly two decades ago. But in her retirement, Wright is finding joy in the theatre once again, this time directing Theatre Lawrence's season opener.
"When I thought about what I'd really like to do, what my real passion is, it was 'Chorus Line,'" she said.
Since signing on, Wright has made it a point to "surround myself" with people up to the task of staging the iconic musical, which calls for a relatively sprawling cast of "triple threats." In addition to being able to sing, dance and act, "A Chorus Line" also demands that its stars be young. They are, after all, auditioning for the chorus line.
It's also famously, traditionally been produced on proscenium stages. Theatre Lawrence, as far as Wright knows, is only the second theater after Canada's famed Stratford Festival to do "A Chorus Line" on a thrust stage, which differs from its proscenium counterpart in that it's surrounded by the audience on three sides.
"And it works," Wright says. "It really does."
She intends to create a fully immersive experience for theatregoers. Before the curtain falls on show night, Wright's actors — it's an ensemble cast, she stresses — will enter through multiple locations to walk through the audience, gym bags in tow as if on their way to a real audition. On stage, they'll greet each other, talk shop, stretch and finally exit, at the direction of an audition assistant, in time for Theatre Lawrence executive director Mary Doveton to introduce the play.
The show itself, she says, is for mature audiences. The stories shared by the characters often deal with adult themes, taken from the nearly 24 hours of taped interviews with young Broadway dancers that inspired "A Chorus Line" more than 40 years ago. At the time, Wright notes, the dancers were only paid $1 for their life stories. It wasn't much, "but they wanted to work," she says. "They wanted to dance."
"Chorus Line" productions often encourage their casts to not think of the iconic musical as a play. They're instead asked to be themselves, more or less, onstage. In that way, Wright says, the characters feel authentic, and their stories personal and intimate.
Theatre Lawrence, like other small community theaters, doesn't pay its actors. The young cast of "Chorus Line," Wright says, do it because they love it, and are willing to put in the work necessary to create a place for themselves in that world, much like their fictional counterparts.
That's probably why the musical remains so popular — and timeless — so many decades after its debut, she theorizes.
"I think people identify with being passionate about something they want to do and trying so hard to do it," Wright says. "And they identify with the people that struggle in order to make that happen."
"A Chorus Line" opens at 7:30 p.m. Friday at Theatre Lawrence, 4660 Bauer Farm Drive, and runs until Oct. 2. Tickets can be purchased online at theatrelawrence.com, at the Theatre Lawrence box office or by calling 843-7469.