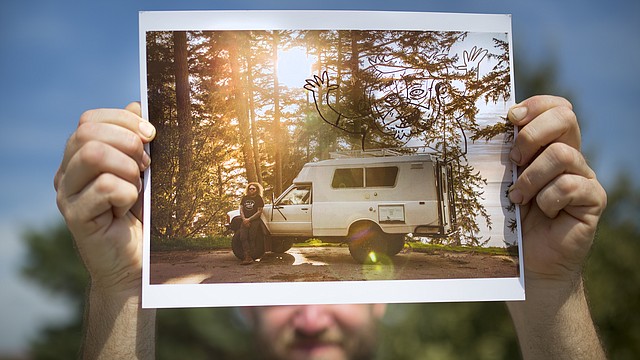 Originally published September 25, 2016 at midnight, updated September 21, 2016 at 3:20 p.m.
To create art, most people simply require inspiration and a medium, with most of the magic happening in the small studios, nooks, crannies and other spaces set aside in shop or home for artful endeavors.
But for outdoor and lifestyle photographer Adam Smith, the creative process has involved almost two years of traveling on the road, more than 125,000 miles driving and an appreciation of living life on four wheels.
"I've been on the road for just under two years. I think it's been about 630 days," Smith says. "I decided that I wanted to try do something that I always wanted to do."
Lawrence art lovers will get a chance to see the results at the upcoming Final Fridays art walk in downtown Lawrence. Smith and Lawrence cartoonist Adam Lott are collaborating on a show that combines photography and cartoons.
Look for Smith to arrive in Lawrence in a setup that might lend itself well to a cartoon — a 1988 Toyota 4x4 pickup with a Chinook pop-up camper, which he explained that he "fawned" over for years before convincing a friend to sell it to him. He calls it "Shadowfax," an homage to a J.R.R. Tolkien figure. It is the third vehicle Smith has had on the journey thus far. Out of it, he updates and runs his website and blog, Road Lyfe.
Photo Gallery
A&E: Man/Ape? art exhibition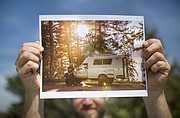 Lawrence cartoonist Adam Lott and traveling outdoor and lifestyle photographer Adam Smith, formerly of Lawrence, have collaborated on an exhibit that combines Smith's landscape and outdoor photography with Lott's illustrations.
"I keep it pretty simple. I basically have some books, comic books, clothing, camping gear, my computer and my camera equipment. My truck has a pretty wicked little solar system that I put in that powers everything that I need from my electronics and keeps the fridge running so I can keep fresh food."
Smith, who owned and operated the Invisible Hand Gallery while living in Lawrence prior to his road adventure, stopped his vehicle to talk while traveling along California Highway 1 in Sonoma County. He says the coastal highway stretching from Los Angeles up into Canada accounts for the majority of his miles logged on the road, where he describes himself in search of the "next bigger, more beautiful place."
"I don't have any plans of stopping," he says. "I love it. I had a really fulfilling life in Lawrence for all those years. This life really provides me the kind of personal freedom that I never knew was possible. I wake up somewhere amazing just about every day."
"Being a full-time solo traveler is amazing," he says. "But also, you're alone the whole time. It's really nice to feel connected to the people that are important to me."
To stay in touch, Smith proposed an idea to his best friend, Lott, a Lawrence cartoonist, who decided to collaborate with Smith on an upcoming show "Man/Ape?" for the upcoming Final Fridays. The show features Smith's landscape and outdoor photography illustrated upon by Lott.
"I'm very honored to being doing this with him. It's kinda been hard to deface his beautiful photos," says Lott with a laugh.
In a whimsical piece between the two, a bear in the foreground drawn by Lott overlooks a rainy Canadian mountain range in Banff, Alberta.
In a somewhat darker piece, within Smith's photograph a stag stands alone on a plain in Point Reyes, Calif., as it is converged upon by several deer skulls added by Lott.
Although they are collaborating on the show, each artist's offering to the collective whole is done without the other's input. The two, however, maintain that the working relationship is anything but impersonal despite it occurring with more than 1,000 miles between them. The work of illustrating upon Smith's work is almost like having a conversation, Lott said.
"This is me and him talking when he's not around," says Lott, who you may recognize as a co-host of the local cable television program "The Not So Late Show." "This is us getting lunch now. I'm interacting with his art. It's strangely a little more immediate even though we have text messages."
"Adam and I, we see eye to eye on everything," Smith says. "I trust that guy with everything. He has an incredible mind for fantasy. I have a certain idea of what my images are. Getting to see him put his spin or his take on my stuff is really amazing. I love it."
For their Final Fridays showing of Man/Ape?, which will be on Sept. 30 at the Bourgeois Pig, 6 E. Ninth St., Smith will make the journey back to Lawrence over the course of several days.
After another solo showing of his work at the Cider Gallery at the end of October, Smith says he may try to ship his truck overseas.
"I'm going to try to go to Europe and do my Road Lyfe thing over there," Smith says. "Iceland, Norway, Finland, that whole area interests me. I'm born and bred in Arkansas. There's nothing too exotic about me, but I've always felt a connection to my Viking ancestry."
As far as continuing their friendship through art?
"I think we've both had such a good time that we want to do more," Lott says. "I feel like it's a great way for us to keep in touch. Like a secret language, almost. This is a way to keep my best friend present."
To see Smith's photographic work and blog, visit www.roadlyfe.com.
Lott's illustrations can be seen on Instagram under the profile "alottacomics."