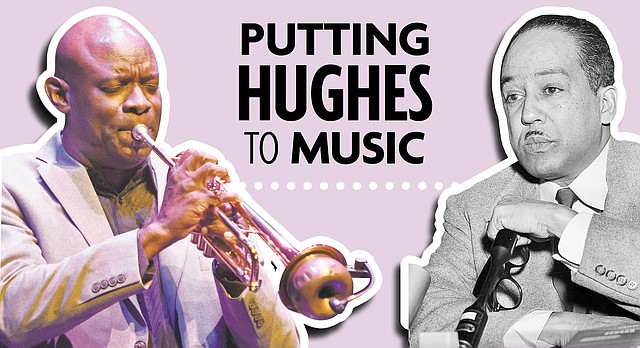 For many in town, the name Ron McCurdy might be linked with fond memories of trumpets and tubas blasting over the triumphs of Danny Manning and Larry Brown while McCurdy served as director of the University of Kansas Basketball Band in the late '80s. It's possible that KU music majors may have recorded jazz pieces within a Murphy Hall studio named after McCurdy, where he once served as the school's first director of Jazz Studies.
But for everyone else stateside and far flung around the globe, McCurdy, a KU Distinguished Alumnus, is best known for creating "The Langston Hughes Project," which he has performed internationally and which he will be bringing back to KU during a performance on April 7 in Swarthout Recital Hall.
McCurdy describes "The Langston Hughes Project," which was voted "Best Live Performance" at the 2016 Jazz FM Awards in London, as an emotionally-stirring, multimedia concert performance. Hughes' 1960 work "Ask Your Mama: 12 Moods for Jazz" is recited in a spoken-word style, accompanied by a jazz quartet performance before a visual backdrop of imagery from the Harlem Renaissance. That imagery, according to McCurdy, features many of Hughes' artistic collaborators and the events, people and places of the Harlem Renaissance that inspired him.
McCurdy, who now serves as a professor of music at the University of Southern California's Thornton School of Music, said his admiration for the poet, who was raised in Lawrence by his grandmother, Mary Patterson Langston, for part of his childhood, began long before "The Langston Hughes Project."
"Both of my parents were educators. My father and mother, as early as I can remember at age five and six years old, we had to recite poems by Langston Hughes growing up," McCurdy said. "I remember reciting 'The Negro Speaks of Rivers,' 'Dream Deferred (Harlem)' and 'I, Too.'"
According to McCurdy, the inspiration for the project on the scale in which it now exists came many years later, when McCurdy first gave the performance for a Harlem Renaissance-themed exhibition at the Weisman Art Museum at the University of Minnesota in 1997.
"It was going to be one-and-done, but the response was so positive from the audience," says McCurdy.
With a newfound realization about the potential for the project, McCurdy said he then began focusing on writing the music.
"This whole work was Langston's social commentary on the whole struggle for freedom among Africans and African-Americans in the 1960s," he says. "It's a very cerebral work, and as I composed the music for it, it took me about a year to do it because it was such an all-encompassing endeavor.
"(I wanted to) get it right …(and) to make sure that we were honoring Langston in a way that he deserved to be honored, and that was to take our time and really make sure that the music and video were really honoring (his) words."
Since the project's inception in 1997, McCurdy estimates that he has performed it "thousands of times, all over the world."
As far as what viewers will take away from it, McCurdy is hoping it evokes a sense of enlightenment.
"(Langston Hughes' work) was about bringing people together and about helping people to understand our similarities rather than our differences," he explains. "I think given our very divisive political climate that we're in right now, I'm hoping that people will re-examine their own core values and really stop and think 'What do you believe in?' 'What matters to you?' That's the gist of what we're trying to accomplish."
The free performance of "The Langston Hughes Project" will be at 7:30 p.m., April 7 in Swarthout Recital Hall at Murphy Hall on the campus of the University of Kansas. Organizers have asked that those who plan to attend RSVP via the KU School of Music's Facebook page.
More like this story on Lawrence.com