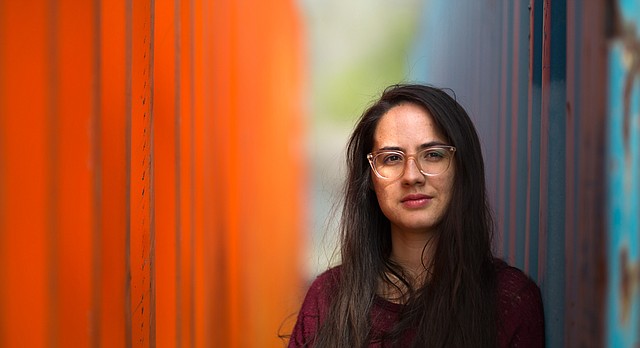 Lawrence resident Kalee Forsythe says she wants to be a writer/director "more than anything in the world," but unlike Sara, the lead female role in her film "E 1200," Forsythe didn't have to get a $5,000 loan from a sadistic drug dealer named Alice to make it all happen.
But, she did need $5,000 to get the dream off the ground. She got it through the slightly less stressful method of an Indiegogo campaign.
Now, the first-time filmmaker — along with members of the public — can see her dream on the big screen at Liberty Hall this week.
"E 1200" tells the story of Sara, a woman in her early 20s living in poverty without a support system, who routinely sticks her neck out for people she clearly shouldn't, including her ne'er-do-well, meth-addict father. As you can imagine, life starts to get a bit complicated. In an attempt to bail her father out of jail, Sara seeks help from several nefarious figures, including Alice, who is intent on recouping what she is owed and then some.
The film was shot over the course of two weekends in June of 2016 with an all-local cast and crew, three-quarters of which were female and with an operating budget of just over $10,000.

Recognizing the existence of gender disparity within the film industry and wanting to omit certain stereotypes like the "damsel in distress" role, Forsythe made a conscious effort to assign the power roles to her female cast members. The male roles, although not completely one-dimensional, serve more as a function for furthering the development of the female characters.
"The villain (Alice) being a woman was the most fun part," says Forsythe. "There are great female villains that I've seen, but this kind of rough and tough, trailer park genre villain, you wouldn't think to have in a film like (this).
In a drug deal scene, a fiendish Mona, played by, Jennifer Bennett, visits Alice, played by Jessi Burkette, who turns from mildly annoyed to devilish on a dime when she realizes Mona is short on money. Seconds later Alice is brandishing a pair of pliers and Mona is seen running from the trailer covering her bloodied face.
"I think that fire is so much more interesting and it just goes to show how much people are missing when women are represented (as damsels in distress)," says Forsythe.
"When you represent them as badasses, they're even hotter," she laughs.
In another reversal of roles, the heroine of the short, Sara, played by Bailee Blair, has assumed a caretaker-like role for her father, played by John Robison, who copes with their impoverished life through drug abuse.
"She's not reflecting, she's just trying to keep up," Forsythe says while describing the character of Sara. "You aren't able to self-actualize when you are bombarded with violence and (living) without a support system."
As for her own support system, Forsythe credits the Women of Lawrence Film (WOLF) with helping guide her through the various facets of the film industry and also inspiring her to "make art," as she puts it.
"Christie (Scanlin Dobson, cofounder of WOLF) and I have been friends since I was 14. That was really the beginning of me making films," says Forsythe, now 25 and who recently worked as an assistant editor on WOLF cofounder Misti Boland's web series "Red Bird."
Forsythe, who is currently an assistant editor at Through a Glass Productions, the Lawrence film and video production company, is hoping to continue making films in the writer/director role.
"As a director, you are empowering everyone with your vision," she says. "It's so cool as a director, everyone comes because they want to create what you've written, your baby. I love that combination of things. A piece of that is what you've given them, and then the (other) is just them and their own creative influence."
Her film, "E 1200," will screen on Thursday at Liberty Hall, with a question and answer portion with cast and crew members to follow. Admittance is $5 or free for Indiegogo supporters of $40 or more.