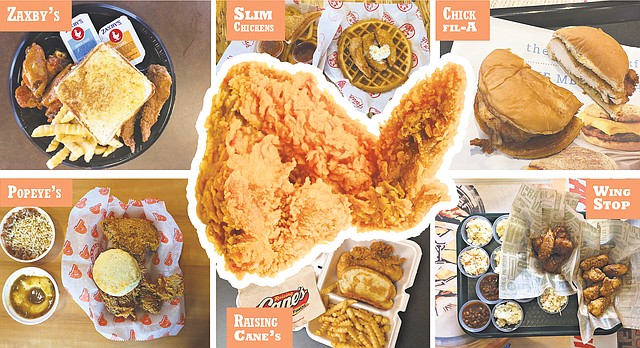 Sunday, February 12, 2017
If you're anything like me, your curiosity level about this bevy of chicken restaurants that has opened recently in Lawrence is about as high as the community's collective cholesterol level soon will be. To further investigate the allure, and to conduct important journalism, I enlisted the help of sports editor Tom Keegan and the fried chicken oracle of Lawrence himself, Town Talk columnist Chad Lawhorn, to eat at all of them.
So we did, on Monday. That's right. Six chicken restaurants in a little more than two hours.
Now, to avoid being tarred and feathered by the already well-established folks at KFC, Biggs BBQ (on Sundays,) Wheatfields (on Wednesdays) and other purveyors of poultry, I would like to point out that we focused just on the relatively new, full-time chicken restaurants that have entered the Lawrence market. Also important to note is that we didn't attempt to rank each restaurant, but rather wanted to give readers a brief idea of what to expect at each of the new eateries.
So here's the order in which it all went down:
Zaxby's, 4661 Bauer Farm Drive (10:50 a.m.):
On the first day of its soft opening (grand opening is Feb. 18), there was plenty of activity buzzing inside and out in the drive-thru line. According to the menu, the Wings and Things meal is billed as being among the restaurant's most popular, so we took the suggestion. It came with five Buffalo wings, which we ordered with the "Nuclear" level hotness; three chicken fingers, one for each of us; crinkle fries and Texas toast. The menu goes well beyond wings and fingers and into "Fried White Cheddar Bites," various chicken sandwiches and "Zalads."
The general consensus was that the chicken was tender with a crispy exterior. I'm a believer that in order for hot wings to be classified as really hot, they need to be served with a small side of regret. My only regret is that I didn't go hot enough even though they were very flavorful. Next time I'll try the "Insane" heat level, which rates as the hottest on Zaxby's heat scale.
The only complaint came from Lawhorn, who was disappointed part of the basket space was taken up by ... celery.
Slim Chickens, 701 Wakarusa Drive (11:11 a.m.):
A more unusual offering in the Lawrence chicken chain scene is chicken and waffles. All three of us agreed on ordering some, along with the Chicks Plate, which came with three more chicken strips, Texas toast and fries. Cayenne Ranch, Mango Habanero and Spicy Barbecue were among the sauces we chose, and there was general agreement that the Mango Habanero was one of the more distinctive sauce offerings of the day.
"I think one thing I'm learning is that I'm overcooking my chicken at home, because this is juicier," Keegan said. "I think I'm overcooking my waffles, too. That waffle is airy, yet flavorful."
It should be noted that Keegan said he had never eaten chicken and waffles before. It should be noted that Chad's jaw did not break when it hit the table.
Chick-fil-A, 2735 Iowa St. (11:42 a.m.):
This place is the perennial powerhouse of fried chicken sandwiches. Although you have the option of ordering several salads or breakfast sandwiches not involving chicken (unless you count the egg, and then that's going to get into an existential discussion that I'm probably not equipped to finish) we aimed straight for the heart and ordered the Chick-fil-A sandwich, which is a generous chicken breast on a bed of vegetables called pickles. (Lawhorn made an exception to his no-vegetable rule here.) We cut the sandwich into thirds. And if you're wondering, yeah, it was a little weird for three grown men to share a single chicken sandwich, but we didn't want to be wasteful. And the road ahead was still long. I'm still not sure, though, that the people in the booth next to us understood.
Popeye's Louisiana Kitchen, 2560 Iowa St. (11:56 a.m.):
If you're looking for crispy, spicy, traditional fried chicken with bones and all, this is your place. To the tune of some upbeat New Orleans-style jazz, we ordered the Three Piece Combo, which came with three very crispy chicken breasts, a side of red beans and rice, and a biscuit. In addition, we sampled the mashed potatoes with spicy gravy.
"It's good, old-fashioned fried chicken here," said Lawhorn, who claims to be no stranger to Popeyes, which is why he knew to be sure to ask for a packet of honey to go with the biscuit. I suspected that Keegan, being the adventurous eater he is, might try to dabble in some of the seafood options like Cajun fish or shrimp. But he apparently understood the gravity of this report and stayed the course.
Raising Cane's, 2435 Iowa St. (12:22 p.m.):
If you're a brass-tacks chicken fingers, fries and Texas toast sort of person, and if you like two-steppin' country music, your boots will likely scoot just fine here. This place keeps it simple by offering chicken fingers with its signature Cane's sauce in various combos or between two buns. We ordered the Three Finger Combo, which came with fries and Texas toast.
Wing Stop, 2233 Louisiana St., Suite G (12:46 p.m.):
"Flavor is Where It's At" is one of the slogans of this joint, and its varieties live up to the billing. Wing Stop offers a choice of traditional wings, boneless wings or tenders, but the 11 flavor options is where the variety really comes in. We ordered the 10-piece combo — half of them flavored with Louisiana Rub, and the other half Hawaiian. The Louisiana Rub is distinctive because, as its name suggests, it is a dry rub rather than a wet sauce.
"With many new chicken places around town, I think you ought to try what each one has that no one else does, and here I would say that that's the dry rub," Keegan said.
The order also comes with a side dish. I chose veggie sticks — more celery sticks — to the dismay of a certain someone at the table.
Harold's Chicken, Whiskey & Donuts, 918 Massachusetts St.:
This location was on our list, but it just didn't quite work out. Harold's was not yet open by week's end when the deadline for this article arrived. But it was very close to opening, and may be by the time you read this. Its menu includes "honest, Southern fried chicken," plus an assortment of homemade donuts and top-shelf whiskeys. Although we were bummed that we didn't get to sample its menu, it may have worked out for the best. I'm not sure I could have chased a seventh fried chicken meal with a shot of anything other than Pepto-Bismol.