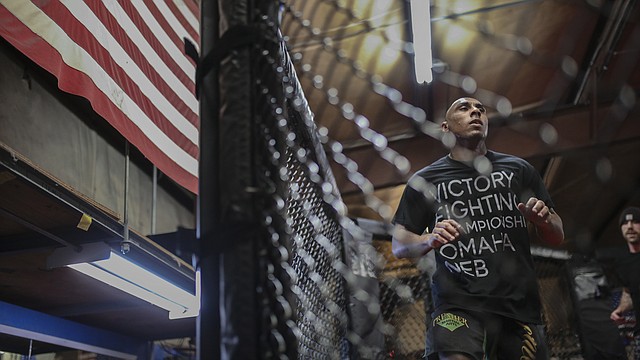 Sunday, February 26, 2017
If you hear the name Lawrence Fight Club, you may have a flashback to the 1999 film that popularized the phrase "fight club." Perhaps you picture a dingy and damp basement with fluorescent lights flickering from the ceiling. Maybe the picture includes a circle of spectators surrounding two shirtless fighters. And certainly there is pulverizing going on.
But, of course, if you hear the name Lawrence Fight Club, you're likely in trouble. After all, anyone who watched the movie knows the No. 1 rule of Fight Club is you do not talk about Fight Club.
Well, it may be time to paint a different picture. Indeed there is a real Lawrence Fight Club, and it is a touch more on the conspicuous side than its cinematic counterpart, with regular hours in a gym shared with CrossFit Lawrence at 815 E. 12th St.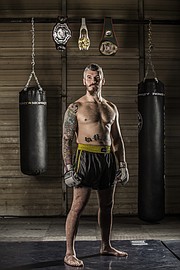 And, by all means, talk about it all you want. Heck, the business even has a website and Facebook page run by head trainer and local mixed martial arts fighter Zak Bucia, who has ventured to such places as Thailand and Brazil to study muay thai and jiujitsu.
Although few comparisons exist between LFC and the 1999 film starring Brad Pitt and Edward Norton, Bucia explained that in his early days competing as an amateur in San Francisco, "smoker fights" were not totally unlike the popular movie Fight Club in the sense that punches were thrown and they were also illegal at the time.
For the vast majority of us who have never put on the gloves, a smoker fight, or "smoker" for short, is an unsanctioned fight, usually between two gyms with one hosting the other.
"It was weird because professional MMA was legal in California (in 2005)," says Bucia, who left Lawrence for San Francisco after graduating from Lawrence High at age 18. "A lot of times we would have these smoker fights and we would go to other gyms. They would match you as closely as possible (with another fighter) by your experience level and your weight. It wasn't really my neck on the line because we weren't the ones throwing these illegal shows, so that was how I got my experience for a long time until I went pro in 2007."
Since 2007, Bucia has competed in 23 professional MMA fights. A quick reference of his Sherdog.com profile, which is essentially an online stat card for MMA fighters, shows his weight at 155 pounds, his height at 5-foot-10 and his fight record at 15 wins and 8 losses. The profile also lists the means by which Bucia has won or lost a fight, including rear naked chokes, guillotine chokes, armbars, knockout punches, knees to the body and kicks to the head.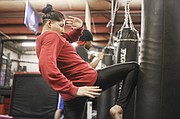 Thanks, but no thanks.
Bucia is relatively nonchalant while talking about the severity of the blows he has delivered and also received, which come packaged with many swellings, bruises and a multitude of fractures and broken bones.
"I feel like you get smarter as you progress, and that wild kid that started full contact has become a smarter technical fighter and I stay a lot safer," adds Bucia. "A lot less injuries now."
Although he still trains for his own fights — including the upcoming Shamrock FC on May 20 at Ameristar Casino in Kansas City, Mo. — since moving back to Lawrence three years ago, Bucia has devoted much of his attention to LFC and training others in the increasingly popular sport.
On Monday, Feb. 13, some early LFC arrivers are getting stretched out on the mats. Others are delivering roundhouse kicks to a full-body punching bag. After a few more leg stretches, class begins, and Bucia leads the club members into the cage, where they begin shuffling counterclockwise around the ring. After a few more circles, the club begins practicing combat-style rolls, smearing sweat across the middle of the mat.
After warmups, Monday's practice is all about grappling maneuvers and submission holds. The club members partner up and begin moving through various holds at half speed to familiarize themselves with quick escapes. Bucia explains that all of them are "fight focused," as he puts it, and the intensity of the individual preparations increase dramatically as each person gets closer to his or her scheduled fight.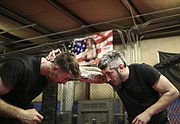 "About two weeks out, we start really putting it on them," he explains. "We want to simulate the fight as closely as possible without any injuries. We need to be careful, but at the same time we need to rough them up a bit. If we've been going light on them this whole time and they go in there and get punched for the first time, it's a little bit of a shock to the system."
Bucia admits that the increasingly aggressive sparring sessions aren't quite the same as the big show.
"I was from a pretty rough gym where we sparred really hard," he said. "I think I was ready for it because I'd been nearly knocked out already by that point … (but) it's nothing quite like getting hit for the first time by someone who doesn't have your best intentions in mind."
If there were a softer sell for someone on the fence about joining a mixed martial arts club, Bucia has likely found it.
"Everybody is really friendly here. Even the professional fighters. They're always quick to help somebody new just learn some stuff."
So, if it's your first time at Lawrence Fight Club, you don't have to fight?
"Don't think that you have to be a fighter to come down here or even want that to be the case," he says. "Nobody is getting pressured into any hard sparring. It's a good way to work out, and it's a practical skill (for self-defense)."
And it makes for a good story. One you can safely talk about.