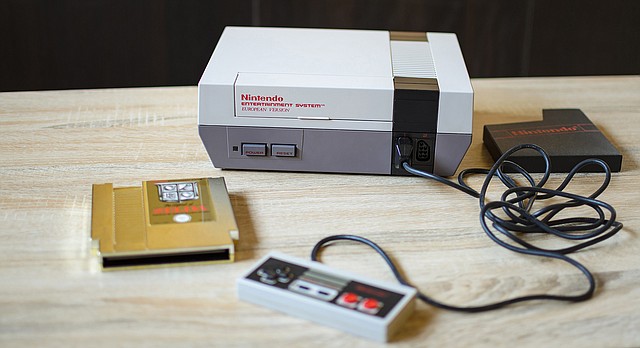 Thursday, January 5, 2017
Ian Stepp remembers visiting his aunt's house as a kid, where he'd play classic games like Duck Hunt and iterations of the Mario Brothers saga on the family's trusty old Nintendo Entertainment System.
Now pushing 30, Stepp is still a fan of the now-classic video games that in recent years have spawned a thriving industry capitalizing on the nostalgia of grownups who coveted Nintendo game systems as kids in the 1980s and '90s.
"It's tough to deny video games are here to stay," he says, and the Lawrence Public Library, where Stepp works as an information-services assistant, is on board.
On Wednesday evening at the library, Stepp and his colleague Sean Wilson will host their first-ever assembly of the Retro Gaming Club. Slated for 7 to 8:30 p.m., the meeting will start off with a little video-game history lesson and perhaps some trivia, followed by — what else? — plenty of gaming, both on a big projector screen and several televisions stationed around the library auditorium.
The goal, Stepp says, is to cultivate an "all-ages community of video game enthusiasts" centered around now-quaint, kid-friendly games like Pac Man, The Legend of Zelda, Donkey Kong, and, of course, Mario.
Several of these now-classics are "older than me" by a couple years, points out Stepp, who says he and Wilson were inspired to launch the Retro Gaming Club after hosting a few gaming-related events at the library last year. Stepp remembers one in particular that celebrated the 30th anniversary of Nintendo's Metroid game.
A father, presumably in his 40s, had attended with his young son in tow. "He walked in and was like, 'I played this as a kid," Stepp says. It didn't take long before father and son grabbed a pair of controllers and began playing the game together.
Watching the whole thing unfold, Stepp says, was a fun experience — one he'd like to see replicated, at least from the standpoint of sharing a hobby that spans generations, with the library's new club.
"For me, at least with Nintendo, there's a sense of whimsy and fun that you kind of lose with some of the more melodramatic video game series today. It seems that most of the time, when video games make the headlines, it's for violent content or treating women terribly," Stepp says. "But there is another aspect to video gaming. That's what really called me to it — just an easy, innocent, fun way to pass your time. And I think Nintendo in particular has been able to hold onto that throughout the years."
Starting Wednesday, Retro Gaming Club members will be using a miniature replica of the old Nintendo NES, which recently generated headlines for still remaining in scarce supply (much to the dismay of holiday shoppers) more than a month after its much-hyped release in November. The console is preloaded with 30 classic games, all of which are accessible to gamers of varying ages and skill levels, Stepp says.
Folks can even bring their own gaming system if they so chose, but Stepp hopes the classic NES will serve as an "entry point," perhaps, for those looking to revisit the video games of their youth.
For now, he and Wilson plan to host larger club events (they're aiming for an attendance of about 30 to start) on the second Wednesday of each month in the library auditorium as well as smaller, "nitty gritty" gatherings in the library's downstairs rooms on the fourth Wednesday of the month. Visitors are free to come and go as they please, Stepp says.
"We're not going to make you swear on a controller or anything," he jokes of the club's loosely structured membership. "Our goal is to have everyone be on a first-name basis and just recognize each other."
Well, that and a little fun, too. For more information on the Retro Gaming Club, visit www.lawrence.lib.ks.us.