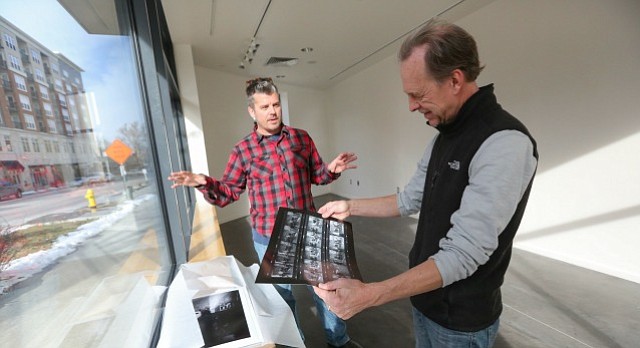 Originally published January 15, 2017 at midnight, updated January 15, 2017 at midnight
The term "painting with light" is often used when describing photography in the artistic sense. But unlike studying a painting, when you look at a single photograph, you don't see the accumulation of all those thousands of little brush strokes and there aren't any hints of the initial sketch lying underneath. The work building toward the photograph is largely invisible. All you have is the image.
A current exhibit at the Lawrence Arts Center, featuring works by Mike Yoder and Richard Gwin, two photographers with well over a half-century's worth of combined years at the Lawrence Journal-World, aims to bring forth the hidden process. By presenting prints of contact sheets while on assignment, and photos selected after being pushed through the various channels of editing, "the work" is made visible.
"For a place like this that's heavy on education, it's good to have exhibitions like this where students can see the guts behind the curtain," said Ben Ahlvers, exhibition program director, who has worked with Yoder and Gwin in going through some of their archives.
Several of Yoder's contact sheets from a late-'90s dance at the Lawrence Senior Center, show whimsical scenes of local seniors. In the opening sheet, the saxophonist/clarinet player warms up while a woman, seemingly dances across the floor, albeit with a dust mop in preparation for the event.
Photo Gallery
A process revealed: Photographs and contact sheets from Mike Yoder and Richard Gwin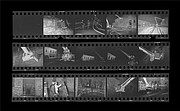 View a gallery of images and contact sheets from Mike Yoder and Richard Gwin's exhibition at the Lawrence Arts Center.
With the dance well on its way, for ten frames Yoder sets his attention on a couple twirling apart and coming back together, hand in hand in front of a two-piece band on the stage behind. As the dancers move to the right of the frame and then left again, they pass in front of the kick drum, which wears an approving smile on its front. For the next four frames, Yoder has turned to two other couples, photographing them from the waist down as their feet dance through window light cast on the floor.
He closes with several shots of a pool player standing alone, juxtaposed by the full dance floor of couples parading in the next room.
One of Richard Gwin's career trademarks has been the ability to sniff out the obscure talents and hobbies of local residents, such as falconer Jack Stoddart.
In a digital contact sheet presentation, Gwin begins his series showing Stoddart wielding a swing lure with the raptor in flight, swooping across an open field. In the final five frames of the contact sheet, the falcon is watching Stoddart while perched on a leather glove on his left hand. Over several frames the two make eye contact before the falcon appears to give out a shriek of excitement.
In two other sets of contact sheets, Gwin illustrates a bit of the unsavory side of photojournalism, with reportage from two separate fires. While hoses and ladder trucks extend, meander and lead the viewer through multiple frames, another set of four frames show a haunting scene of a figure observing the fire's damage within a shaft of light.
"This method of showing a contact sheet kinda shows a little bit of the path," explained Yoder, who leads photography workshops and provides visual consultations for photographers. "It's almost like the (viewer) can walk alongside the photographer and watch what we're doing."
An idea and a walk with a camera was responsible for leading to what Yoder describes as one of his favorite photographs from a bird-watching adventure. Yoder explains that he began photographing a group of girls as they suited up in fur coats and binoculars while indoors at the Prairie Park Nature Center.
"It was one of those kinda things where you get the image in your head (beforehand)," Yoder explained. "All of a sudden, you realize something is going to develop here and I see this image I want to get. When they're inside Prairie Park Nature Center and they're putting on the fur coats… there's no clean background."
As the group moves outside, Yoder's vision begins to take shape. The light is soft and muted. The bird-watchers, waist-high in prairie grass, are each holding their binoculars, with the tree line as a backdrop.
"That ends up being the last frame, but it's a frame that's in your head that you go out to get," says Yoder. "It's not rocket science, but it is about paying attention to intuition and being spontaneous in the moment and reacting to what we see around us."
Yoder's and Gwin's photography exhibition opened Friday evening and will show through February 25.