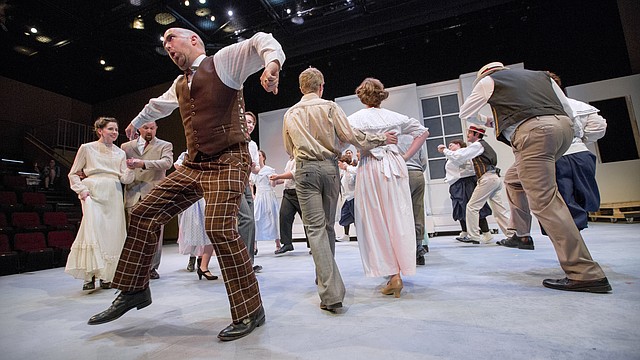 For Charlie Goolsby, Friday's opening of "The Music Man" at Theatre Lawrence will be his third time directing the musical, which he says brings him back to his childhood watching the American classics on late-night television.
"Growing up, CBS didn't have any nighttime programming past 10:30, so they would run old musicals on TV at night and I watched them and watched them and watched them," Goolsby said. "They would slip in 'Music Man' every once in a while. I've watched musicals a million times growing up and that's how I got started in theatre."
"The Music Man" tells the story of the appearance of con man Harold Hill, played by Christoph Cording, in the fictional town of River City, Iowa, where Hill attempts to swindle the townspeople out of their money after making promises to organize a children's band. Hill's plans to take the money and run are roadblocked when a love interest develops for Marian, the town librarian, who is played by Sonja Holmgren.
Goolsby discussed a major theme for the musical as being the concept of community and how insiders and outsiders are received.
"(Harold Hill) is an outsider who doesn't know himself as well as other people do," he says. "(Marian) graduated from college and she comes back and wants to bring her love of learning into the community, but it's the fact that she's educated that makes her an outsider until (the town remembers) who she is. It is all about the people and about how even though they're a small town and they talk about each other sometimes, it's all done in love. There is that deep understanding of community."
Like many creators, writer Meredith Willson drew upon his own childhood and growing up in the small town of Mason City, Iowa, as inspiration for the Broadway musical.
"When (Willson) wrote 'The Music Man,' inside the first page of the script, he talks about how you should avoid making any of these people caricatures because they're all based on people that he knew growing up," Goolsby said.
As an added initiative to focus the attention on the characters, set designer Greg Kearney is taking a minimalist approach using varying shades of white for the entire set. The male characters, who are primarily wearing earth tones, and the female characters in bright pastels, designed by Jane Pennington, pop off of the backdrop when parading around the stage to songs such as "Shipoopi" and "Marian the Librarian."
The cast size for the show is a whopping 46 people, which Goolsby believes is the second largest since the theatre's opening of the West Lawrence location in 2013.
"It's fascinating because it's been called the ideal American musical because of the mix of everything that's in it," says Goolsby while differentiating between the many acting, singing and dancing roles. "Really, if you leave about any character out or any song out, the show is lesser because of that and that's not always the case with a musical."
The show opens at 7:30 p.m. Friday, June 9 and runs through June 25 at Theater Lawrence, 4660 Bauer Farm Drive. Performances start at 7:30 p.m. Fridays and Saturdays; Sunday matinees begin at 2:30 p.m.