For this year's Outdoor Downtown Sculpture Exhibition, Lawrence residents and visitors will be treated to works by some familiar names such as Kate Dinneen and John Rasmussen, but also those of ODSE first-timers like Alicia Kelly.
Kelly's work, "The Collection," consists of a series of unprinted, hand-cut Tyvek "medallions" arranged on the eastern face of the downtown parking garage adjacent to the public library. Porter Arneill, director of arts and culture for the city, who is in favor of expanding the scope of the exhibition, praised Kelly's contribution as giving a good example of how the 29-year project could incorporate more varied types of public art installations.
Photo Gallery
Outdoor Downtown Sculpture Exhibition 2017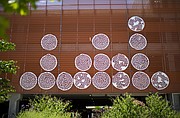 A look at the works on display for 2017's Outdoor Downtown Sculpture Exhibition.
"In my interpretation, one thing she has done, even though her artwork is not a sculpture per se, in a way she kind of turns the garage into a complementary sculpture of an architectural scale," said Arneill.
"I like the idea of empowering artists to challenge themselves to create public art projects that may not be only sculptural but still have that wonderful effect on the public realm," he added.
As the name implies, the bulk of the sculpture exhibition is downtown, with one outlier: "Billows," a cold-cast aluminum piece by Louisburg sculptor Jacob Burmood, which holds down the western edge of town outside the entrance to Theatre Lawrence.
Those hoping to take in all of the sculptures will have to wait a few days. Because of complications with delivery, "Nutrition Sculpture" by Will Vannerson of Kansas City, Mo., is set to be installed on the east side of Massachusetts Street between Eighth and Ninth streets this week, Arneill said. All of the works will be displayed for a full year.