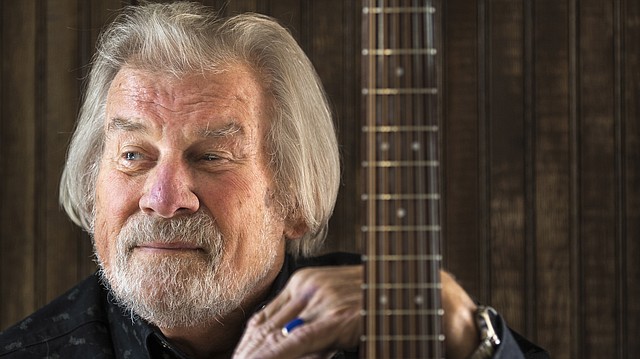 Arnie Johnson has been and will always be "a country boy."
"My family was country from day one," says Johnson, who was raised in a family of musicians, first in Salina, and then in Lawrence, where he's lived since 1952.
Now, at 76, his age has finally caught up with his "old country boy" image. The longtime musician, who has fronted the Lawrence-famous Arnie Johnson and the Midnight Special for the last 45 years, is retiring next month with a farewell show at the Eagles Lodge.
To clarify, it's not that Johnson feels he's too old for the rollicking dance-hall gigs he's become known for over the years. He hadn't been slowly planning his retirement, expecting that one day the time would come to hang up the guitar and cowboy boots for good.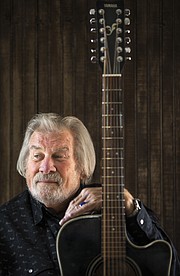 "It's just been recent that I've decided to retire. Some of my musicians right now are leaving because of work," Johnson says. "It's quite a job working in new people."
Johnson, who says he never had any formal training in music, started performing with the Midnight Special in 1972. At the very beginning, he played a few honky-tonk venues around the Lawrence area, he says, but quickly shifted to the dance halls, which have become his signature over the years. Perhaps most notably, Johnson and his Midnight Special bandmates were a staple at the now-shuttered Knights of Columbus hall's monthly dances, where he says they'd play for everyone from elderly couples to college kids.
That, of course, was before the building closed in 2015, a bittersweet occasion for Johnson and his legion of longtime Knights of Columbus fans. It was his favorite place to play, Johnson told the Journal-World at the time, because of the people.
"I've always tried to play the best I could and keep everybody happy," says Johnson, a fan of classic honky-tonk tunes. "If anybody requests songs, I try to learn whatever I can to make them happy, just loving playing country music."
And for years, that's what Johnson did. But, he says, in addition to the difficulties of bringing aboard and retaining new musicians for his act, there's also the problem of finding places to play.
"As time goes by, more and more places are shutting down," Johnson says of the old-fashioned venues — among them Lawrence's Eagles Lodge and Kansas City's Camelot Ballroom, which are both still open, for now — that have kept his schedule booked over the years.
They just don't have the room to bring in the "big crowds" needed to stay afloat in today's business climate, he says.
"It's heartbreaking, and not just from my point of view but for all the people who like to dance to any kind of music, mostly country. But it's just getting to the point where there are fewer and fewer places to have a place to dance," Johnson says.
"Maybe I'm getting out at the right time, because who's going to shut down next week?" he muses. "Maybe if I ease out of here, maybe it's a good time. I don't know."
What he does know is he couldn't have kept his career alive — and thriving — for so many years without his close-knit circle of supporters. Johnson's son Rich has frequently played guitar in the Midnight Special ("he's still with me," Johnson says), and Johnson says he "couldn't have done it" without his longtime wife and manager, Karen, standing behind him through countless gigs and band roster switch-ups.
And then there are the fans. Johnson says some of his followers have been there since the beginning, driving across county and state lines to catch a toe-tapping Arnie Johnson and the Midnight Special performance. A lot of them, had they not passed away, would "still be here," Johnson says. It's the memories of those "faithful and great people," he says, that now serve as a reminder of why he started all this in the first place.
Many of the folks he's forged relationships with over the years are now coming together, he says, to his long and storied career. Next month's retirement party at the Eagles Lodge, slated for 7 p.m. April 1, he says, wasn't his idea. It was the "fans and friends" who thought Johnson, usually too busy onstage during shows to do much mingling, might appreciate the chance to visit, reminisce and celebrate. Johnson says he'll likely play the first set, with other musicians joining throughout the night "until the cows come home."
He'll have his current bandmates — Dave Purcell on drums, Dave Hooge on bass, and John Hodge and Johnson's son Rich on guitar — with him that night, as well as a few Midnight Special alumni. Duncan Butts, his original drummer, is travelling all the way from Florida for the occasion, Johnson says.
Retiring, his wife Karen says, "has been such a very hard decision for Arnie." She doesn't know "how he'll get through it," but knows he will, just the same.
Johnson, for the record, isn't even sure what retirement might look like. He's not making any "guarantees" that he won't be back at some point. Ever the "old country boy," he knows performing will be a "hard habit, something hard to break." But it's also a "good habit," Johnson recognizes, that has given him so much over the years.
The Midnight Special never broke out beyond the regional country circuit, sticking mainly to Lawrence but occasionally venturing to Salina or Leavenworth or Beloit. Bartlesville, Okla., and Lakes of the Ozarks venues were about as far as Johnson went. And he doesn't lament not "making it big," not for one minute.
"I'm sure everybody wishes they could make it big and make millions of dollars and that kind of stuff, but I couldn't ask for anything more than what I have here," Johnson says.