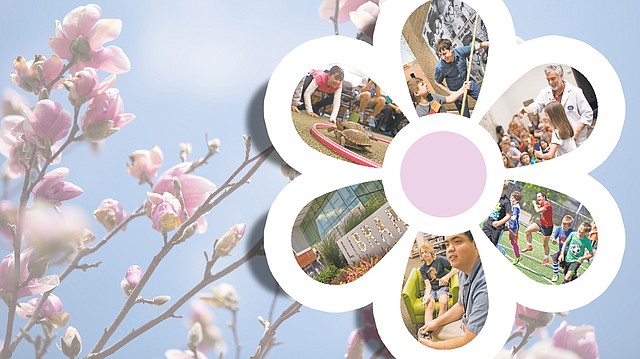 Worried your kid's brain will turn to mush this spring break? School may be out, but fun and learning are in, at least at the Lawrence Arts Center, the Lawrence Parks and Recreation Department and the Lawrence Public Library. We've rounded up a few of the camps, workshops and activities being offered locally this week.
From sports and the great outdoors to arts and crafts, there's plenty to keep the youths out of the pool halls until school starts back up again. That would be March 27, for all you Lawrence Public Schools parents.
Lawrence Arts Center
The Lawrence Arts Center is once again taking to the streets this spring break with its annual Guerilla Art camp for creative kiddos. The five-day workshop introduces students to the methods and ideas behind guerilla art — leaving behind anonymous pieces of art in public places — and helps kids make some of their own, according to the Arts Center's description.
Camps are offered for grades one and two and grades three through five and will take place from 9 a.m. to 4 p.m. Monday through Friday. No supplies needed — "just bring your sense of humor, curiosity and inventiveness," the Arts Center says. The cost is $208.80 for Arts Center members and $232 for nonmembers.
Enroll in person at the Arts Center, 940 New Hampshire St., or online at www.lawrenceartscenter.org.
Lawrence Parks and Recreation
The Lawrence Parks and Recreation Department will once again host a variety of camps for kids this spring break. Options still open as of press time include:
• For sporty types, Parks and Recs is offering golf and soccer camps. The golf camps, led by instructors at Eagle Bend Golf Course, are geared toward kids new to the sport, and will incorporate "developmentally appropriate equipment and instruction." Golf fundamentals — full shots, pitching, chipping and putting — will be covered.
The classes, held Wednesday through Friday, will be divided into sections for ages 5 to 10, 7 to 10 and 11 to 14. The 7-10 group will hit the links from 3 to 3:45 each day of the camp, with the 11-14 and 5-10 groups scheduled for 4 to 4:45 p.m. and 5 to 5:45 p.m., respectively. Fees are $50 per camper.
Parks and Rec's soccer camp is open to both boys and girls ages 6 to 12. Instructor Riny Deboer will teach campers soccer fundamentals and skills at Sports Pavilion Lawrence, 100 Rock Chalk Lane, from 8:30 to 10 a.m. Monday through Thursday. The cost is $60 per camper.
• "Hold the snakes, make friends with a tortoise, play games, hike and have fun" at this week's "Animals Gone Wild" camp for nature-loving kids ages 6 to 12. The camp, slated for Monday through Friday, will be held from 8:30 a.m. to 4 p.m. each day at the Prairie Park Nature Center, 2730 Harper St. Fees are $110 per camper.
• Parks and Rec's annual youth theater camp, co-sponsored once again by Theatre Lawrence, invites aspiring thespians to ponder the secret lives of pets. "Students will unravel this mystery as they re-create dramatic adventures of our own real pets," Parks and Rec teases. The five-day camp, led by Theatre Lawrence staff, will culminate with a performance Friday for family and friends.
Workshops will be held Monday through Friday from 9 a.m. to 4 p.m., and campers are asked to bring a lunch each day. The cost is $199 per camper.
Registration for all camps can be completed online at www.lawrenceks.org/lprd/camps or at any Lawrence Parks and Recreation facility.
Lawrence Public Library
In addition to its usual storytime activities, the Lawrence Public Library, 707 Vermont St., has plenty to keep kids of all ages entertained this week. Here are a few highlights:
• On Monday from 2 to 3 p.m., the library will host "Mad Science: Up, Up, and Away!" for ages 5 to 11. This "spellbinding special event," as library staffers describe it, will introduce children to the principles of air and pressure, with "hot air balloons, vortex generators and even a hovercraft" mentioned in the event description.
It's unclear if any of these devices will make an actual appearance that day — given that it's being hosted in the library auditorium, a full-sized hot air balloon may be out of the question. But, like other library programming, this one's free, so we're guessing kids — and parents — won't mind much.
• Wednesday's "Break Out!" event for grades 6 through 12 invites teens to "use your knowledge of Harry Potter" (or "just your noggin," or probably also several cheating spells, for all those cunning Slytherins out there) to solve puzzles, open locks and ultimately win a prize. Teams (or individuals) will take turns playing this magical game in the library auditorium from 2 to 3 p.m.
• The library is hosting two crafting get-togethers for teens this week. First up: Tuesday's installation of the library's popular color-change mug activity, slated for 2 to 3 p.m. in the library readers' theater. This funky project invites kids in grades 6 through 12 to "create a design that changes color when you pour in hot water," though participants are also free to decorate their mugs with oil-based pens.
On Thursday afternoon, kids in grades 6 through 12 can stop by the library readers' theater to "make a chew toy for your best friend, or donate it to the Humane Society to keep their doggies happy." The library will provide all supplies, including old T-shirts with which to make the toys. Just have your teen drop in between 2 and 3 p.m.
• End spring break with a little friendly competition at the library's Super Smash Bros. video game tournament for teens. Slated for 1 to 3 p.m. Saturday at the library readers' theater, this popular recurring event is for grades 6 to 12.
For more information on library programming, call the Lawrence Public Library at 843-3833 or visit its online calendar at www.lawrence.lib.ks.us.