Sunday, November 26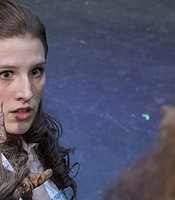 If you ask costumer Jane Pennington or set designer James Diemer, the most important reviews for the Theatre Lawrence production of Disney's "Beauty and the Beast" won't come from a grizzled theater critic. They're much more concerned about the younger members of the audience — particularly the ones who have seen the movie three dozen times and who have practically memorized every stitch of Belle's gold dress.
Sunday, November 12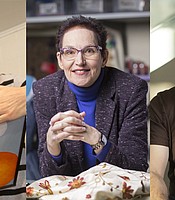 For the 22nd year, the city of Lawrence and the Lawrence Cultural Arts Commission will present Phoenix Awards to several local artists who have demonstrated exceptional achievement in their field or in promotion of the arts and arts education in Lawrence. The awards ceremony will be today at 2 p.m. at the Lawrence Arts Center. Here's a look at the 2017 award recipients — through the eyes of those who nominated them.
Sunday, November 5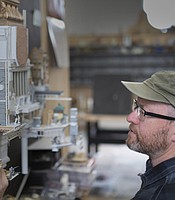 If you just looked at the floor of artist Kris Kuksi's North Lawrence studio, the sight provides a pretty clear vision of the kind of disorder an energetic child could create if left unattended for hours. Action figurines lie next to toy motorcycle parts while a disassembled space craft, a toy machine gun and the vertebrae from a miniature skeleton congregate near the steeple of a model church. Although the studio is dusty and somewhat chaotic, all of the disarray comes to a halt when you set your eyes on his sculptures, which are pristinely and meticulously crafted as evidenced by his new book Conquest, which was released in early October.