Sunday, October 22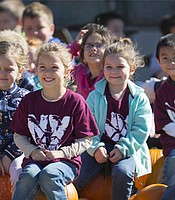 If getting your winter boots a little dusty isn't quite your thing, a nearby grocery store might be the place for you as far as perusing this year's pumpkins. But if you want to catch a wagon ride, drink some hot cider or momentarily entertain your kids' fantasies of bringing home a 70-pound behemoth, then the intersection of North 1500 and East 1850 roads is ground zero for the Douglas County pumpkin experience.
Sunday, October 8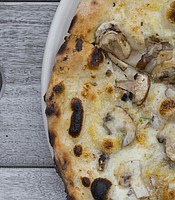 Pretty much the moment a server at a restaurant asks if I'd like to hear about the specials, I nod but usually drift off to a place where words just become sounds that don't matter. I'm not trying to be impolite, I just have favorite menu items that I really look forward to everywhere I go. So, when Ramen Bowls and Luckyberry owners Shantel and Tim Grace told me they both order the mushroom pizza at Limestone, always, I knew I was in good company.
Sunday, October 1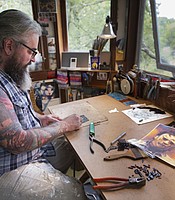 Artist John Niswonger's stained-glass hawk feathers would look nice in just about any window and might even make a nice gift for a loved one. But here's guessing that your grandmother would not react the same way if she were to unwrap his one hundred-piece homage to the 1970s low-budget, horror movie The Texas Chainsaw Massacre.