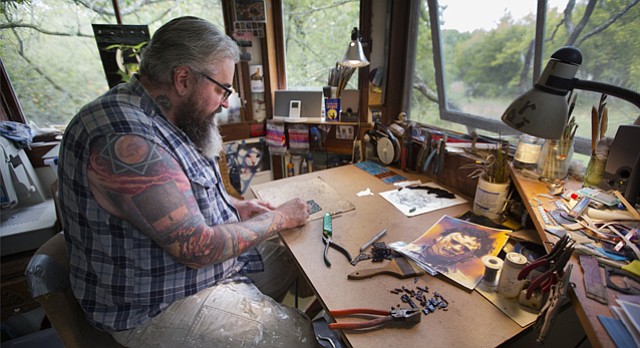 Artist John Niswonger's stained-glass hawk feathers would look nice in just about any window and might even make a nice gift for a loved one. But here's guessing that your grandmother would not react the same way if she were to unwrap his one hundred-piece homage to the 1970s low-budget horror movie "The Texas Chainsaw Massacre."
At his Lake Dabinawa cottage north of Lawrence where he has his studio, Niswonger, or "The Nish", as he is commonly referred to, has plenty of stained glass feathers, dragonflies and other colorful mobiles and sun catchers hanging all around projecting color and beauty at every turn.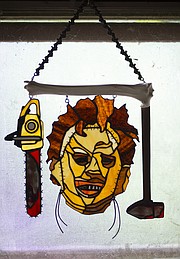 But the front window of his home is reserved for the grotesque Leatherface likeness, which is flanked by two of the horror icon's blood-stained instruments of death — a sledgehammer and a chainsaw. The glass elements are suspended from a deer femur dragged from the woods by one of Niswonger's dogs, and the entire piece is hung with a chainsaw chain.
Yes, Niswonger's stained glass business — The Nish Glass — doesn't follow the standard serene formula of many other stained glass artists. At least not during this time of the year.
What inspires Niswonger's macabre masterpieces?
"It mainly stems from making (Halloween) costumes as a kid and loving and hating those horror movies because they scared me so much," he says. "But I just couldn't stay away from them. There's a few that just scared the (expletive) out of me. Now I can't get enough. I don't like real gore. I don't want to watch an operation. But if it's fake, I love it."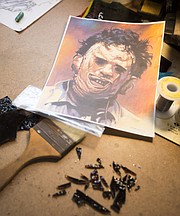 Niswonger explained that most of his time is spent creating sun catchers, mobiles, candle shades and other colorful portrayals of nature often inspired by the seasons. The horror end is a small percentage of his business, he says, but definitely one that has brought him some attention from like-minded followers on Instagram and Facebook, where he promotes all of his creations.
"I've kind of friended the other horror nerds," he said. "They follow me and I follow them. I'm not even that much of an addict. You look at some of these people that are just covered with horror tattoos. If I wasn't already sleeved out with other stuff, I'd probably get a Michael Myers sleeve on my arm."
Among the other grisly creations within his repertoire are a selection of seasonal earrings, including mirrored glass skulls, and twin Hello Kitty sun catchers — one good, the other ill-tempered, zombielike and otherwise uninviting. He also plans to tackle a piece based on Michael Myers from "Halloween" and possibly one of Jason Voorhees from "Friday the 13th."
For Niswonger, in a medium that he admits is rife with plenty of rainbows and sunflowers, it's also about making something original.
"I've made some rainbows," he says. But as for the Leatherface piece? "I think it's a first."
Niswonger's work can be found on Instagram and Facebook under The Nish Glass.