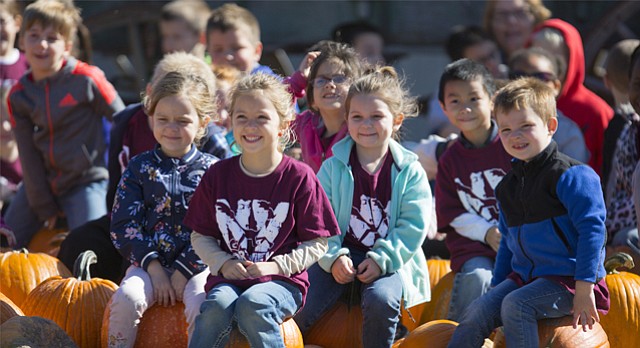 If getting your winter boots a little dusty isn't quite your thing, a nearby grocery store might be the place for you as far as perusing this year's pumpkins. But if you want to catch a wagon ride, drink some hot cider or momentarily entertain your kids' fantasies of bringing home a 70-pound behemoth, then the intersection of North 1500 and East 1850 roads is ground zero for the Douglas County pumpkin experience.
At said intersection, three options are presented — Schaake's to the west, Pendleton's to the south and Lil Charlies to the east.
Besides being grouped together in a relatively small area of the county, all three purveyors of pumpkins require visitors to deal with a little mud from recent rains, as well as road closures along 15th and 11th streets east of Lawrence.
"All the farms in the valley have had a problem with the detour," said Karen Pendleton, co-owner of Pendleton's Country Market. "11th and 15th streets are both closed. The only way to get to the farms in the valley between Lawrence and Eudora is to take 23rd Street to K-10 to Eeast 1900 Road."
Here's a look at what each has to offer if you're planning a visit in the next couple of weekends.
Schaake's Pumpkin Patch, 1791 North 1500 Road:
The perennial powerhouse of Douglas County pumpkin patches is in its 43rd year of operation and is not packing in the pumpkins anytime soon, according to owners.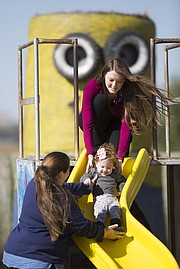 When asked how many visitors the patch gets every year, owner Janet Schaake said, "Oh my goodness, I would have no idea. Each year it seems like we get a few more people. On the weekends it's packed, and we have school groups all during the week."
Among Schaake's features are a 30-acre pumpkin patch, a hay maze, a playground, a craft shop, a weekend concession stand, a picnic area, hay rides, farm animals and a birthday party shed.
Pendleton's Country Market, 1446 East 1850 Road:
Owners Karen and John Pendleton opened their pumpkin patch 13 years ago to accommodate visitors from the Lawrence Arts Center Preschool.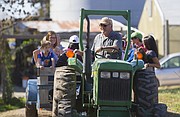 "That's how we got started was the Arts Center," said John Pendleton. "(Arts Center director of early childhood education) Linda Reimond said, 'We need a place that's just a little bit less intense.' We schedule it one group at a time and try not to have any overlap."
Adding to that, Karen says Pendleton's caters to "the preschool and early elementary school kids. All of our play area is more low-key than most and everything is a little more farm-oriented."
Beyond the country store, which features ornamental fall decorations and edible fall vegetables, one of their specialties, Pendleton's also features a "right-turn-only" picket fence maze short enough to see your child's head as they navigate it. They also offer a shaded area for birthday parties, and new to the farm this year is a musical area with instruments constructed from old farm tools and supplies.
Lil Charlies, 1919 East 1500 Road:
Just as pumpkins come in all different shapes and sizes, so do pumpkin patches. After over ten years of operating as Strong Farm's Pumpkin Patch, owner Richard Strong has renamed his five-acre patch Lil Charlies.
Strong offers tractor rides to his patch and has five charming miniature ponies for feeding. The patch also has various play areas for kids, Strong said.