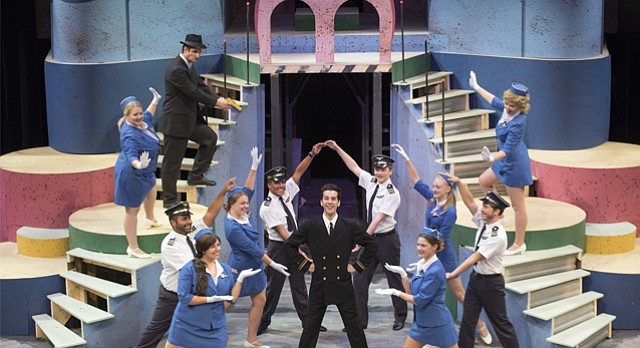 Sunday, September 10, 2017
For its opening act of the 2017-2018 season, Theatre Lawrence will present the musical "Catch Me If You Can," which director Ric Averill explains goes much deeper than a simple tale of cat and mouse.
The musical is an adaptation of the 2002 movie, itself based on a true story, which starred Leonardo DiCaprio as the young con artist Frank Abagnale Jr. and Tom Hanks as FBI agent Carl Hanratty. Relentlessly pursued by Hanratty, the evasive Abagnale shape-shifts from lawyer to doctor to airline pilot and a host of other personas in his efforts to relocate and avoid capture. The two develop a bond through years as adversaries.
"It is a beautifully charming story about finding your real family and love and acceptance with this flawed character (Abagnale), who is extremely charming," Averill says. "(It's) kind of about good and bad parenting in a way. The young man, Frank Abagnale Jr., his father is a low-level con man. He meets Hanratty, the FBI agent who pursues him. The FBI agent kind of becomes the good father, the surrogate father."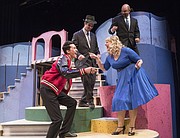 Part of what draws Averill to Abagnale's story, he explains, is that in spite of his antics, which are not malicious, Abagnale is relatable.
"I think most people can relate to having occasionally not been who we say we are. That's what Frank makes his whole life doing," Averill says. "We kind of like watching him be a rascal, but we also don't really want him really punished, because he isn't doing anything evil."
To tell such a wild and unbelievable story in the theater setting, Averill explained that he is reliant on nimble actors who can play multiple roles, as well as a versatile set. Alex Castaneda is playing the part of Abagnale, and Alan Martin will play Hanratty.
"It's my style of theater in many ways because it's very transformational," Averill says. "One scene instantly becomes another, here we are in the subway kind of thing. It's definitely a unit set, so we can move from scene to scene seamlessly.
"It's got a 'Mad Men' kind of feel to it because it's set in the early- to mid-'60s," Averill says. "The set is just awesome. (Technical director James Diemer has) built this multilevel set. It has two descending staircases that look a little bit like the staircases that come down out of an airplane when you used to go straight down to the tarmac. On the sides of the stage, there are going to be projections of advertisements from the 1960s — things that will set us in the different locations."
While touching on the musical elements of the show, Averill noted that a five-piece band will accompany the performance, which presents Abagnale's story as "a 60s jazz and rock revue." Musical numbers include "Live in Living Color" and "Stuck Together (Strange But True)," sung by Abagnale and Hanratty, albeit with Abagnale in handcuffs.
Opening night for "Catch Me If You Can" is Friday, Sept. 15, with Friday and Saturday shows beginning at 7:30 and Sunday shows beginning at 2:30. The musical runs through Oct. 1.