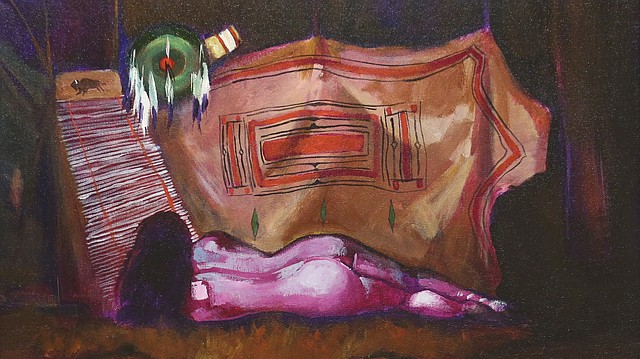 Sunday, September 24, 2017
Among the upcoming Final Friday exhibitions is a show at the Phoenix Underground that artist and organizer Brent Learned is sure will offer a unique experience not only in subject matter, but also in its assemblage.
Native American Body of Art is an exhibition featuring 30-plus nude paintings of Native Americans by nine Native American artists from different tribes. The idea for the show was conceived by Learned, a Cheyenne/Arapaho artist from Oklahoma City and a 1993 University of Kansas graduate, who said he had "been kicking it around for a while" after talking with artist friends about the lack of Native American nude portraits that are not exoticized or hyper-sexualized, but created in the classical sense.
"This show is kind of groundbreaking because if you were to type in 'Native American nude exhibitions,' you won't find one," Learned says. "To put together an exhibition where it is all Native Americans depicting Native American nudity, that has never been done."
Learned's theory about the lack of Native American nude portraits goes back well more than 100 years to the establishment of Native American boarding schools.
"A lot of (Native Americans) think that it's taboo or against their culture," he explains. "I think (it) comes from the years of being assimilated into white society. Through assimilation, the majority of boarding schools were run by churches. It was beat into them that the human body was wrong.
"You can go to any museum in the country and you can see every race and creed done, except for Native Americans done by Native Americans," he continued. "You just don't see it. I wanted to tear down that boundary that nudity is bad."
Even while delivering the concept for the exhibition to the artists he recruited, Learned explained that he saw a bit of hesitation from some.
"It really was hard at first," he explained. "A lot of them thought about how the elders in their communities would actually think of them, (but) when we talked about the history of assimilation, those walls started to slowly come down."
In addition to Learned, eight other artists from across the country will present work that approaches the exhibition's concept in a variety of ways. Such work includes ledger art from Mustang, Okla., artist George Levi, Cheyenne; and playful pop art from Oklahoma City's Steven Paul Judd, Kiowa/Choctaw.
"Even though there's one subject, nude and the Native American, the way that they approach it is so different with all of the artists that we've got," said Dusty Meyers, curator of the exhibition. "They all explore this kind of pop art style with bright colors, but then they also push themselves into other mediums. I'm interested to see how this community reacts to it."
The monthlong show will open with a reception at 5 p.m. Friday at Phoenix Underground, 825 Massachusetts St.
More like this story on Lawrence.com