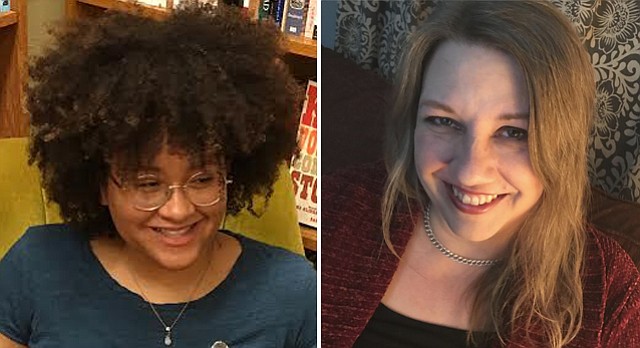 A poet whose work examines body politics and a fiction writer exploring the breakup of a family have been chosen as the winners of the 2018 Langston Hughes Awards for Creative Writing.
To provide some insight on how the winners — poet Rachel Atakpa and fiction writer Kim Condon — were selected, Darren Canady, Lawrence playwright, University of Kansas associate professor of English and five-time Hughes Award judge, offered his take on what the five-judge panel was looking for and what type of writing and writer the award aims to celebrate.
"I think one of the things the panel of judges are always looking for is promise in the writer," Canady said. "The award is really meant to be that boost to a writer that says, one, you have some real ability and some talent that we want to recognize and encourage you to keep writing. It's also an award that is created to recognize the power, the vitality and the variety of voices in Lawrence and Douglas County and to talk about the ways in which this location, this geography and the culture of Lawrence and Kansas can affect a writer.
"The third leg, of equal importance, is, do we see reflections of the legacy of Hughes, who is someone who wrote about what makes us human, who writes about social justice, who writes about place and how placement affects someone's life?"
Here's a little bit more about Atakpa and Condon and their work:
Rachel Atakpa
Atakpa is an undergraduate at the University of Kansas from Derby who is majoring in English with an emphasis in creative writing and Spanish.
What work did you submit?
"I submitted a ten-poem collection entitled 'Mystic Localities.'"
What themes are present?
"'Mystic Localities' speaks to the overlying theme of engaging with body politics with regard to blackness, queerness and gender in particular. Two in the collection — 'Black Girl Ghost Story No. 1' and 'Black Girl Ghost Story No. 2' — in both of them I construct these scenes of place. I talk about the ways in which the body is consumed in both of those spaces.
"In the first one, (I talk) about how existing in this world as a black girl is one of being watched and imprisoned by surveillance. The second one is more in alignment with the ocean and talking about the Atlantic. I think a lot about the bodies and the souls that are in the Atlantic as a result of the trans-Atlantic slave trade and so just what that means to be in the Atlantic Ocean as a black girl."
What personal life experiences do you bring to your writing?
"Because my work primarily engages with body politics, just my existence is where I pull a lot of the sensory or the visual scenes that I create. Engaging with my own subjectivities is where a lot of it comes from."
Who are your influences?
"Audre Lorde is my everything. I love her poetry and essays. (She) has been the biggest influence on my writing, my academics and my activism. June Jordan is another one of my favorite poets. My favorite living poet is Eve Ewing. Afro-futurist writers, black power writers and a lot of black women writers from the '60s, '70s, '80s and '90s are my biggest influences."
What would you liked to see changed or added to the Lawrence literary scene?
"I feel like recently there have been some changes, but that's been a direct result of some people in my own circles, women of color, making efforts to diversify the arts scene in Lawrence. I think that as a university student as well, I see a lot of cliqueness, particularly in the dominant white art scene. I think if we reoriented how we think about our artistic practice, then that would manifest in local scenes and we would have more space for different voices and different stories."
Kim Condon
Condon, who is an attorney for the Midland Group, grew up in Lawrence and attended KU, where she received an undergraduate degree in creative writing and a Juris Doctor degree from the KU School of Law.
What work did you submit?
"I submitted a chapter of a larger piece that I'm working on. I'm working on a novel-length piece.
"Essentially, it's about a family that lives on the fringes here in Lawrence and they come under the scrutiny of law enforcement and it forces their family apart. The kids come into a child in need of care case which can ultimately lead to a case of parental rights. The story focuses on the teenage daughter in the family, who has always played the role of the caretaker."
What themes are present?
"The themes are really (the teenage daughter) overcoming the guilt of not being able to hold the family together when it wasn't her job in the first place — when children have to be the parent."
What personal life experiences do you bring to your writing?
"There's the legal aspect that comes to play in the story. I was exposed to parental termination cases through being an attorney, and I worked as a research attorney at the Kansas Court of Appeals and we saw a lot of things like that. It's sad and amazing how often these families don't take the steps that they need to hold it together."
Who are your influences?
"When it comes to other writers, I would say that writers like Wally Lamb, Harper Lee and Toni Morrison are high up on the list as far as influencing the way that I write. Outside of the literary folks who influence my writing, I've taken some inspiration from people like Paul Abbott and Wes Anderson. I like interesting portrayals of life and they both have that covered."
What would you liked to see changed or added to the Lawrence literary scene?
"I'm very pleased that we have places like the LAC and Raven that support local artists and writers doing their thing. I think that Lawrence is very good and KU is very good at supporting the creative side of being a writer. What I find that I would still like some guidance on is the business end of being a writer. A lot of us can write stories until the cows come home, but then what do you do with them? Working with agents, all that stuff. There's not a whole lot of guidance out there for that. It would be a heck of a class to offer."