Sunday, February 18, 2018
The Lawrence Arts Center's upcoming production of "The Wizard of Oz" won't change the script or music of the beloved tale, director Amanda Pintore said. However, as far as the set and many of the underlying messages, she and the cast are inviting viewers to skip arm-in-arm down a different path and on "a new adventure."
The Arts Center's version transplants the action to the Roaring Twenties, an era famous for automobiles, jazz, economic prosperity and social and political change.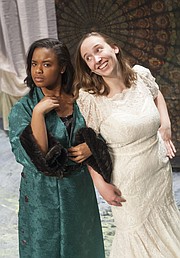 "As we were kind of thinking about how we wanted to create a fresh and innovative take on 'Wizard,' that's kind of how we came about to setting our version of (it) in the 1920s," Pintore said. "We wanted to reimagine Oz."
So, expect to see painted silk drops, Art Deco archways and doors and even Art Deco prints in the costumes and the set.
But Pintore added that it's not just the scenery of the Land of Oz that's getting a remodel. Just as Dorothy's dress has been redesigned in a '20s silhouette style (albeit with blue gingham on the buttons and the collar in a nod to the original film), the persona of Dorothy as a sweet and powerless little girl from Kansas has been bulldozed and rebuilt with firmer footing.
"There's a lot of moments throughout the show where Dorothy refers to herself as small and meek," Pintore said. "Again, we're honoring the tradition of the script by not altering those lines, so I've been working with Sadie Barbee, who is playing Dorothy, to really find ways to reinterpret and really own those words differently."
Pintore's formula for melding a nearly 80-year-old script with a more empowered character is simple.
"Cut the sugar," she said. "We use the phrase a lot in rehearsals. Sadie and I had a conversation about it, and I said, 'Whenever you hit a part in the script that makes your stomach turn, use it then.' So our Dorothy, rather than believing she is small and meek, she's saying she is because she's playing the game, because she's in control and she knows that's what she has to do in that moment."
The overhaul isn't limited to the play's main character, either. Pintore said she wants audiences to think about the show's good and wicked witches differently, too.
"In the standard representation of this show and in other shows, we kinda have (the idea that) pretty and quiet are good and that loud and ugly is bad, inherently. I'm trying to show a Wizard of Oz where Glinda (the Good Witch) and the Wicked Witch are really just two sides to the same coin," Pintore said.
This will come out in several ways on stage, Pintore said, including presenting the witches on 5-foot-tall platforms — in full view of each other the entire time. Both will also conduct the scene changes.
"So they're actually working in tandem together rather than it being this completely oppositional relationship," she says. "I think for me, my strongest impulse to go in that direction is honestly my response to the way that women are currently looked at, what is expected of a woman right now, what equals good or bad behavior and how we can kind of adjust these characters to share a different story."
When casting the show, another important area that Pintore and the Arts Center sought to address was the lack of any black actors in the 1939 film. Three of the principal roles in the Arts Center's production will be played by black actors, including that of Dorothy.
"I think it's really, really important that every young person in the audience finds themselves on stage," Pintore said. "I do think that it's a sign of a quickly changing climate of people realizing that there is underrepresentation on our stages and that it's our responsibility to do something about it."
"The Wizard of Oz" will run Feb. 22, 23 and 24 and March 1, 2 and 3 at 7:30 p.m. and Feb. 25 and March 4 at 3 p.m. at the Arts Center. Tickets are $25 for adults, $18 for seniors and $12 for students.