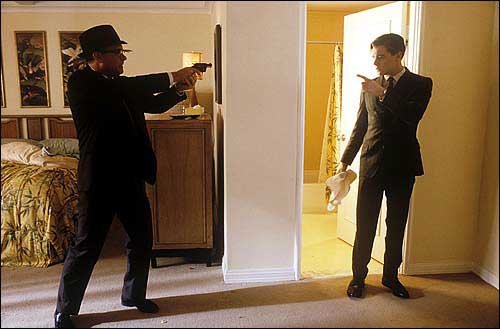 Tom Hanks, left, stars as an FBI agent specializing in bank fraud
who pursues a fugitive young con man (Leonardo DiCaprio) in "Catch
Me If You Can."
Stories this photo appears in:
Since we're a society that likes to glorify criminals as much as heroes, the true story of Frank Abagnale Jr. was destined for a Hollywood adaptation. The charming, ingenious con man led such a dazzling life that he's the perfect subject for big-screen treatment -- so much so that it's easy to overlook the amount of financial damage and broken relationships he left in his wake. Abagnale knew how to manipulate people, and "Catch Me If You Can" (based on his 1980 autobiography) masterfully grasps that concept. The cinematic result is a terrific cat-and-mouse game that never loses momentum, even given the film's rather inflated 140-minute running time.