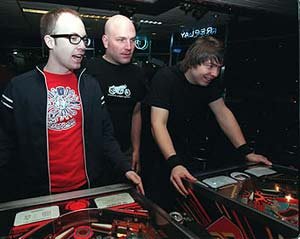 Ultimate Fakebook is (L to R) Bill McShane, Nick Colby, Eric Melin,
and (not pictured) J.D. Warnock.
Stories this photo appears in:
Ultimate Fakebook opening for Anything But Joey is a little bit like Pearl Jam opening for Creed -- the mentor playing second fiddle to the student. And though the bands are officially billed as co-headliners, there's definitely something sweet for ABJ about having enough leverage to ask UFB to open this Saturday's show at the Granada.