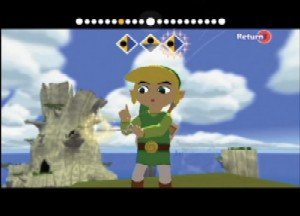 Screw playing an instrument, Link now gets to conduct the wind.
Stories this photo appears in:
Was it worth all the hype? Does the new style suck? Our full review.
Take the perfection that is Legend of Zelda: Ocarina of Time on Nintendo 64, quadruple it, add a few dashes of visual dazzle, a sprig of ingenuity, and BING! Wind Waker. Our full review.