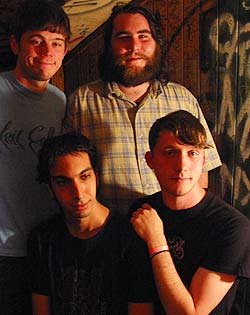 ( blue )
Formed: Nov. 2002
Sound: "Angry dancy music"
RIYL: Gang of Four, Talking Heads, The Minutemen
Most common lyrical theme: Social injustice
Why they should win the Farmer's Ball: Could make a whole album
with one day free recording at Red House.
More
info
Stories this photo appears in:
It's Wednesday night at the opening round of the KJHK Farmers Ball and local shock rockers Vibralux are backstage at The Bottleneck putting the final touches on their makeup. The band has spent weeks preparing for a run at the coveted title, and they're pulling out all the stops for tonight's show: a smoke and light show, a bubble machine and a sponsorship deal with Priscilla's for their garter belts and "skimpy underthingies."