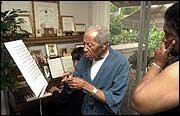 Robert McFerrin, points to sheet music during a music therapy
session in his Creve Coeur, Mo., home. At the piano is Jack
Jenkins, and McFerrin's wife, Athena McFerrin, listens at right.
McFerrin, the father of jazz singer Bobby McFerrin, was the first
black man to be signed by the Metropolitan Opera in New York. He
suffered a stroke in the late 1980s that impaired his ability to
verbalize his thoughts, but he still can sing.
Stories this photo appears in:
Robert McFerrin stares at the television in his living room and listens intently to the deep, rich baritone voice, recorded 30 years ago.