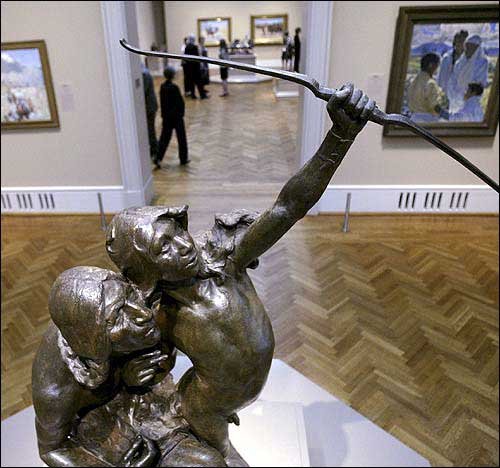 Hermon Atkins MacNeil's "The Sun Vow," modeled in 1898 and cast in
1901, commands a room at the Art Institute of Chicago's exhibit on
western art. The exhibition, titled "Windows on the West: Chicago
and the Art of the New Frontier, 1890-1940," is a look at the
pivotal role Chicago's philanthropists, railroaders and politicians
played in encouraging and subsidizing successive waves of
Southwestern artists.
Stories this photo appears in:
Imagine an exhibition of Southwestern art without a single coyote howling beside a saguaro cactus. And now imagine that exhibition in shingle-flat Chicago, where the manmade landscape seems a world removed from the arroyos and mesas of New Mexico.