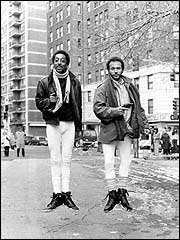 Gregory Hines, left, and Billy Crystal are shown on location in the
streets of Chicago for the filming of "Running Scared" in this 1986
handout photo. Tony Award-winner Hines, the tap-dancing actor who
starred on Broadway and in movies including "White Nights," has
died, his publicist said. He was 57. Hines died Saturday in Los
Angeles of cancer, publicist Allen Eichorn said.
Stories this photo appears in:
Gregory Hines, the greatest tap dancer of his generation who transcended the stage with a successful screen career that included starring roles in "White Nights" and "The Cotton Club," has died at 57.