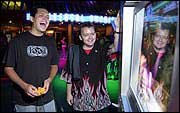 Peter Wurster 32, of Burbank, Calif., left, and Todd Metcalf, 26,
of Costa Mesa, Calif., play Nintendo games at one of several
Nintendo kiosks while waiting for the rock band Evanescence's
concert to begin at the Universal Amphitheatre near Los Angeles.
Seeking new eyeballs and thumbs for its video games, Nintendo is
using the Evanescence tour to showcase game characters at kiosks
installed in concert venues. It's the latest cross-pollination
between games and music, as record labels seek to introduce unknown
bands and console manufacturers piggyback on big music acts.
Stories this photo appears in:
Cross-promotion helps bands, game makers
Now opening for the dark-rock band Evanescence: Luke Skywalker, extreme snowboarders and the claymation man-and-dog duo Wallace and Gromit.