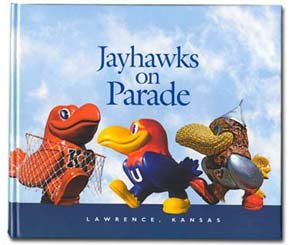 This hardcover book about Jayhawks on Parade is for sale at area
businesses and the Kansas University Alumni Association. The
Jayhawk statues, decorated and altered by area artists, are being
used as a tool to lure tourists to the city, but also, organizers
say, to draw attention to the artists and bring art to the public.
Critics say the exhibition lacks creativity and is too commercial.
Stories this photo appears in:
Jayhawks on Parade ruffles feathers, hatches public art debate
Lawrence muralist Dave Loewenstein caught his first glimpse of a university mascot parading as art last year while vacationing in Oregon. He was walking the streets of Eugene, and as he neared the University of Oregon campus, "garishly painted" fiberglass ducks began appearing everywhere. "I remember saying to myself, 'At least we haven't done THAT in Lawrence.'