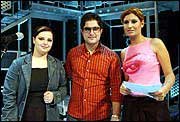 The two female contestants, Jordan's Diana Karzon, left, and
Syria's Rowaida Attiyeh, right, stand with Lebanon's Melhem Zein,
long front-runner for the superstar title who was eliminated from
the semifinal race last week during a trial in Beirut, Lebanon.
Stories this photo appears in:
And you thought "American Idol" fans were excitable. They've got nothing on the millions of Arabs backing their national favorites on the show's Middle East knockoff.