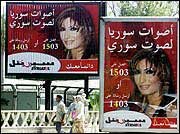 Billboards showing singer Rowaida Attiyeh read "Syrian votes are
for a Syrian voice" in one of the main squares in Damascus, Syria.
Attiyeh and Jordanian Diana Karzon competed for the Arab world's
"Superstar" title Monday, and Karzon was named the winner.
Stories this photo appears in:
And you thought "American Idol" fans were excitable. They've got nothing on the millions of Arabs backing their national favorites on the show's Middle East knockoff.