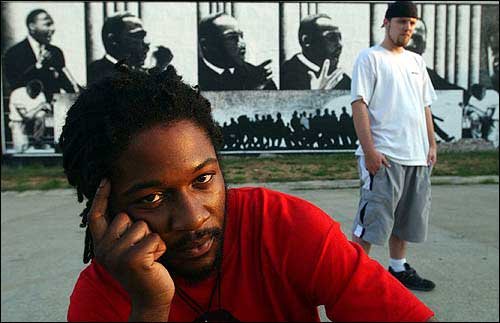 Aaron Sutton, left, lyricist and mc of Deep Thinkers, prides
himself on writing socially conscious tunes drawn from what he
witnesses in his midtown Kansas City community. He and producer
Kyle Dykes, right, are making a name for themselves in the growing
Lawrence hip-hop scene.
Stories this photo appears in:
'Conscious' hip-hop duo seeks empowerment through music
In Lawrence, hip-hop shows are typically synonymous with good times. Gaggles of beer-goggled youths gather on Friday nights in dimly lit clubs and houses-for-hire, dancing to the tribal pulse of hip-hop beats and flirting like mermaids. Aaron Sutton might be at one of those parties, but he has more on his mind than partying.