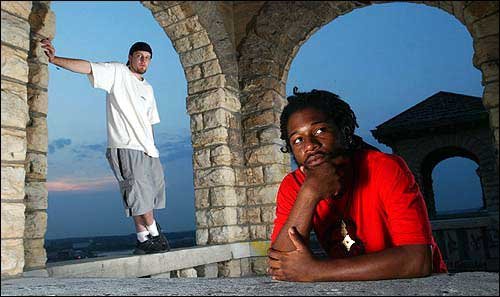 Producer Kyle Dykes, left, and MC/lyricist Aaron Sutton of Deep
Thinkers are "still trying to revolutionize" by making music with a
social conscience. Their new album, "The Next Move," is scheduled
to be released Nov. 4.
Stories this photo appears in:
'Conscious' hip-hop duo seeks empowerment through music
In Lawrence, hip-hop shows are typically synonymous with good times. Gaggles of beer-goggled youths gather on Friday nights in dimly lit clubs and houses-for-hire, dancing to the tribal pulse of hip-hop beats and flirting like mermaids. Aaron Sutton might be at one of those parties, but he has more on his mind than partying.