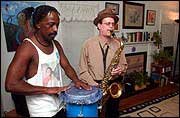 Barry Barnes, left, and Robert Baker, both of Lawrence, rehearse
for Bopaphonic Poetry Circus, a multimedia poetry, music, dance and
sideshow extravaganza slated for Friday and Saturday night at
Lawrence Community Theatre, 1501 N.H. Barnes, Baker and several
other Lawrence performance poets will recite verse with rhythmic
accompaniment, and circus sideshow freaks will entertain between
performances.
Stories this photo appears in:
The rhythm of the drum meets the music of the tongue at Bopaphonic Poetry Circus
Words fly from their mouths with the greatest of ease as beat masters accompany on sax, drums and keys. Welcome to the Bopaphonic Poetry Circus, where rhyme acrobats trade trapezes for tongue twisters and attempt to elevate a tradition carved out not by P.T. Barnum but by artists like Leonard Cohen and William S. Burroughs.