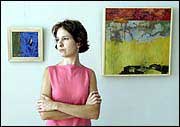 Works by Lawrence artist Heather Smith Jones are on exhibit at
Signs of Life gallery, 722 Mass., through Oct. 18. Jones is shown
with two of her pieces "One + One = Multitudes", left, and "Pouring
Over Transients." Jones explores memory, faith and patterns of
wondering and knowing in her work.
Stories this photo appears in:
Lawrence painter explores dichotomies, faith in Signs of Life show
Looking at a Heather Smith Jones painting is a bit like stepping into a dream. Objects appear in seemingly random fashion, oriented in unlikely ways. Buildings, doorways, birds, leaves and branches are superimposed over abstracted backdrops.