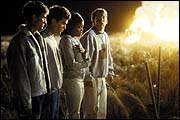 From left, Jack Jr. (Luke Edwards), Johnny (Drew Tyler Bell),
Chelsea (Lena Cardwell) and Bucky (Billy Aaron Brown) are left to
fend for themselves in United Artists' "Jeepers Creepers 2." The
film has a tighter premise than its chaotic predecessor but takes
an emotionally ugly turn with overtones of racism, bullying and
even an obsession with young shirtless boys.
Stories this photo appears in:
It's hardly a surprise "Jeepers Creepers 2" offers little of the foreboding suspense that amped up the fear factor in the original horror flick. Like "Halloween," "Friday the 13th" and "A Nightmare on Elm Street," the series now centers on showcasing the bad guy -- a bat-winged demon known as the Creeper (Jonathan Breck) -- more than his anonymous victims.