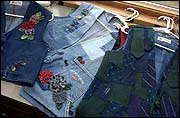 These vests are the creations of McLouth fabric artist Sherry
Leftwich, who makes wearable art garments from items people would
normally throw away, such as old sweaters, neckties and blue jean
denim. Leftwich will sell the clothing at an open house Thursday
through Saturday at her home.
Stories this photo appears in:
McLouth fabric artist borrows quilting techniques, not geometry, to stitch wearable art garments
Sherry Leftwich borrows techniques from quilters. And her garments bear echoes of the time-honored patchworks. But her artistic impulses have guided her down a more winding path.