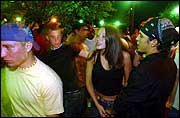 Bar-goers mingle after 2 a.m. closing time outside It's Brothers
Bar and Grill, 1105 Mass. Police say that with the return of Kansas
University students to town after the summer break, scenes like
this on a recent Sunday morning are more prevalent after hours
downtown.
Stories this photo appears in:
The two young women stumbled out of It's Brothers Bar & Grill, one leaning heavily on her companion as they made their way south on the sidewalk. Lawrence Police Officer Tony Garcia was standing on the curb in the 1100 block of Massachusetts Street, his arms folded, as they passed shortly after 2 a.m. on a recent Sunday morning.