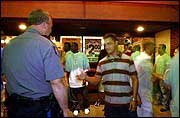 Police keep a heavy watch over Massachusetts Street around bar
closing time. On this recent Sunday morning, a patron offered a
handshake to an officer on the sidewalk outside It's Brothers.
Stories this photo appears in:
The two young women stumbled out of It's Brothers Bar & Grill, one leaning heavily on her companion as they made their way south on the sidewalk. Lawrence Police Officer Tony Garcia was standing on the curb in the 1100 block of Massachusetts Street, his arms folded, as they passed shortly after 2 a.m. on a recent Sunday morning.