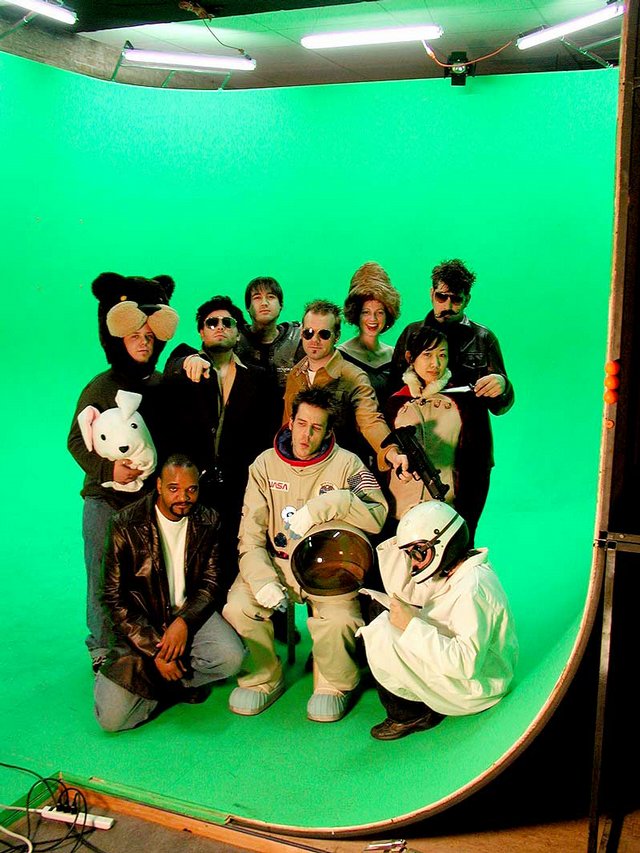 MK12 is (clockwise from fursuiter): Chad Perry (cuddly bear with
cuddly severed rabbit head), Timmy Fisher (pimp with hair), John
Dretzka (obscured costume), Ben Radatz (oo-oozi), Meshel Cook
(friend of the MK12 fam, with beehive), Shaun Hamontree (mustache
with knife), Maiko Kuzunishi (cape, being knifed), Jed Carter (lab
coat), Matt Fraction (astronaut), John Baker (as himself). Larger
image available upon click.
Stories this photo appears in:
Kansas City's dumpster-diving designers earn corporate, cult clientele
Anyone who caught the MTV Video Music Awards last August might remember a brief animation of a British schoolboy performing this brilliant little rap with a hydraulic-driven Power Wheels truck bouncing in the background. The 15-second ditty introduced the award for Best Rap Video, subjecting an audience of millions to the crooked humor of Kansas City's MK12 motion graphics company.