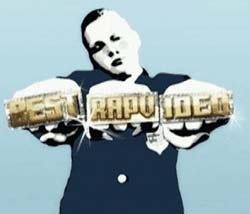 Still from the MTV 'Best Rap Video' intro produced by MK12. More
work by the K.C. design studio is on their website, mk12.com.
Stories this photo appears in:
Kansas City's dumpster-diving designers earn corporate, cult clientele
Anyone who caught the MTV Video Music Awards last August might remember a brief animation of a British schoolboy performing this brilliant little rap with a hydraulic-driven Power Wheels truck bouncing in the background. The 15-second ditty introduced the award for Best Rap Video, subjecting an audience of millions to the crooked humor of Kansas City's MK12 motion graphics company.