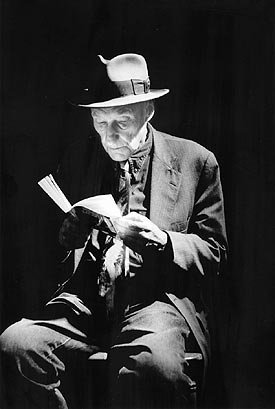 During a break in the filming for the music video "Just One Fix" by
Ministry, William Burroughs bought some books and magazines, and
made himself comfortable off on the side of the studio with the
sci-fi book Rigor Mortis by Mary Kittredge. Lawrence, Kansas,
September 25, 1992.
Stories this photo appears in:
Editor's note :: Whatever one might think of William S. Burroughs, he was one of the most widely known residents of Lawrence. Before his death in 1997, Burroughs -- whose work included 'Naked Lunch' and 'Junky' -- lived in a modest house on Learnard Street in east Lawrence. The well-traveled author lived more years in Lawrence, Kansas than in any other location in the United States or abroad.