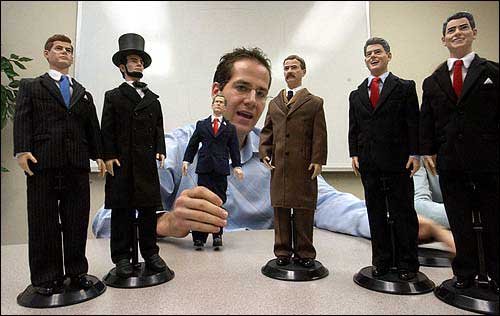 Jesse Combs, president of Toy Presidents Inc., holds a doll of
President George W. Bush as he talks about the company's other
figures, at the company's Houston headquarters. The other
presidents shown are, from left, John F. Kennedy, Abraham Lincoln,
Teddy Roosevelt, Bill Clinton and Ronald Reagan. Each presidential
doll wears hand-stitched clothing reminiscent of their era, such as
Lincoln's top hat and Bush's navy suit, red tie and black cowboy
boots adorned with the presidential seal. The dolls also talk; an
embedded computer chip plays 25 different phrases the presidents
uttered during their administrations.
Stories this photo appears in:
If Barbie is attracted to leaders of the free world, Ken may have a rival or two. Toy Presidents Inc., a tiny Houston company, is selling 13-inch-high dolls of President George W. Bush that utter 25 different phrases from the commander in chief. He's the first of a series that will include former Presidents Clinton, Reagan, Kennedy, Lincoln, Washington, Jefferson and Theodore Roosevelt.