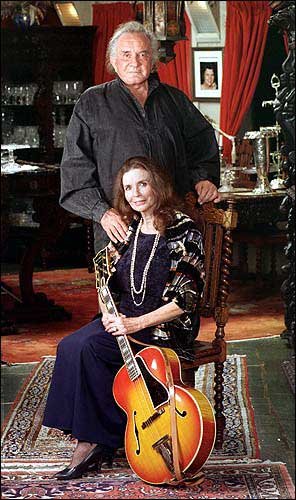 Country music legend Johnny Cash is shown with his wife, June
Carter Cash, in their Hendersonville, Tenn., home in 1999. The
deaths of Johnny and June Carter Cash came within months of each
other this year.
Stories this photo appears in:
They made the stages and screens of the 20th century shine. Their music burned with the heat of love or plumbed the soul of the common man. Their writings took us to faraway worlds, or deep within our hearts. Johnny Cash and June Carter Cash were country music royalty. Bob Hope made us laugh and warmed the hearts of lonely servicemen. Katharine Hepburn showed us elegance and pride in every role she played. Fred Rogers became a fatherly television friend to generations of youngsters.