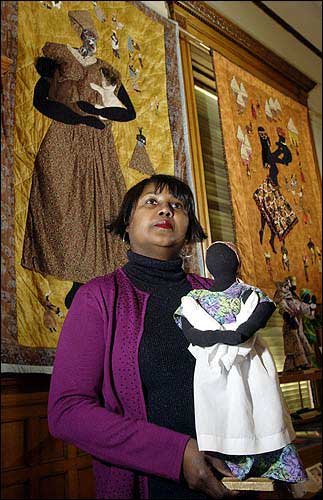 artist marla jackson holds a doll titled "Corporate Daycare," which
was made by her mother, Fern Hale-Hopkins of Cleveland, Ohio. The
dolls are on display this month along with Jackson's quilts at the
Watkins Community Museum of History, 1047 Mass. Behind Jackson are
two of her quilts "Corporate Daycare," left, and "Firstborn."
Stories this photo appears in:
Artists embrace heritage, create work unique to selves
Muscular black men boldly chiseled in ink tones occupy the spaces of Hobart Jackson's drawing paper. Proud black women dance, labor, bond and rejoice in scenes Marla Jackson stitches into her quilts. The Lawrence artists share a name, though they're not related, and they're both black. But that's about where the similarities end.